By Kate Springer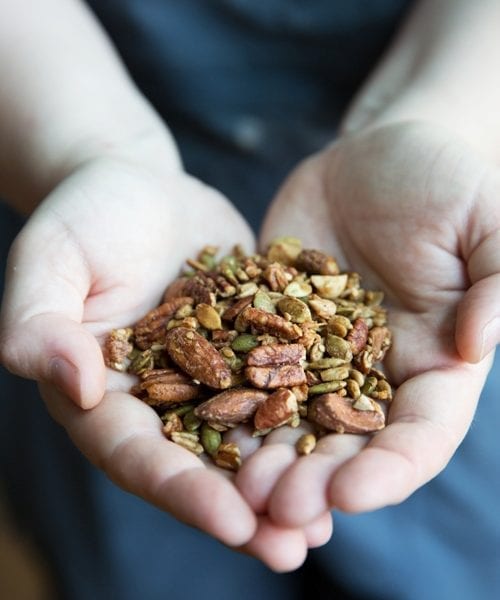 Here at True North Granola, we're nuts about nuts! It's no wonder that they make a crunchy, delicious addition to our products, but which ones are used, and what are their benefits? We'll break it down for you.
Which nuts are used in True North Granola?
We use pecans, almonds, pistachios, cashews, and macadamia nuts in our granola.
The health benefits of nuts
Pecans
Pecans are packed with antioxidants, fiber, vitamins, and minerals, such as iron, calcium, and magnesium, which have heart and bone health, as well as anti-inflammatory, properties. Integrating them into a well-balanced diet may also lower insulin levels. Additionally, the crunchy texture and buttery flavor of pecans makes them a favorite among nut lovers. Learn more about pecans in our blog post.
Almonds
Almonds are high in calcium, vitamin E, and monounsaturated fat. While monounsaturated fat helps your body manage good and bad levels of cholesterol, calcium aids in maintaining strong bones, and vitamin E helps skin. Due to their calcium content, eating almonds can be a good alternative for those on a dairy-free diet. Some research shows that eating almonds may reduce the risk of serious diseases, including type 2 diabetes. As if we couldn't sing the praises of almonds enough, they pack a punch of proteins and antioxidants, too, with the latter most found in the outer thin brown "skin." Although you may have not known that almonds are actually seeds, they're commonly grouped with nuts, and we don't know that we'd do without them.
Pistachios
Pistachios stand out among nuts because they contain two things that help with eye health: lutein and zeaxanthin. Additionally, they're high in potassium, fiber, and vitamin B6, which help keep hormone levels balanced. In fact, pistachios are officially considered a 'complete protein' for those over five. In comparison, they contain as much protein as one whole egg. These green nuts are bursting with flavor and they can be part of a healthy, balanced diet and lifestyle. Win-win!
Cashews
Loaded with healthy fats and essential minerals, like manganese, cashews grow on trees and are attached to a "cashew apple." They're technically seeds, not nuts, but we appreciate them anyway! High in protein, cashews also happen to be a great source of copper. A ¼ cup serving has about 80% of the recommended Daily Value of copper, which can support immunity and keep bones and strong and well.
Macadamia Nuts
Rich in antioxidants and nutrients, such as vitamin b1 (which allows carbohydrates to be used as energy) and cooper, macadamia nuts are as unique as they are flavorful. Native to Australia, they make a stellar addition to the keto diet.
Which granolas have which nuts?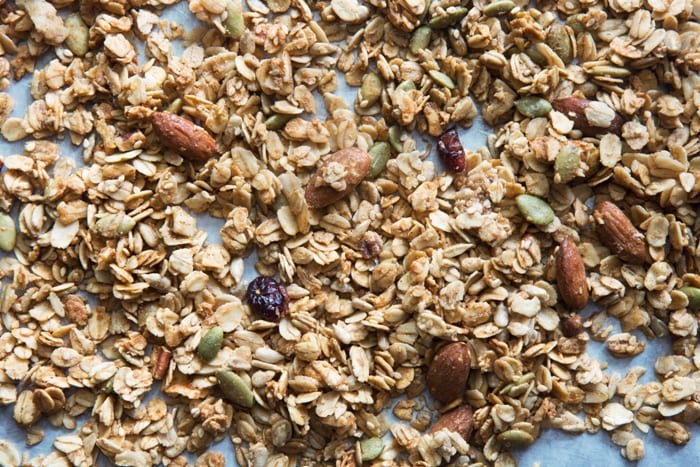 Pecans: Cherry Vanilla Pecan Granola; Apple Cinnamon Granola; First Date Granola; Go Nuts Granola; all three varieties of Nutty No Grainer
Almonds: All of the Nutty No Grainers; Apple Cinnamon Granola; Coconut Granola; First Date Granola; Granola Blues Granola; Go Nuts Granola; Ginger Granola
Pistachios: Go Nuts Granola, plus our Nutty No Grainers
Cashews: Granola Blues Granola
Macadamia nuts: All three Nutty No Grainers: Nutty No Grainer Original; Nutty No Grainer Mediterranean; Nutty No Grainer Cranberry
Please note the following: Our conventional Oats So Good Muesli (with a brown label) has almonds and pecans. Additionally, our Cookie Mix contains almonds, pistachios, and pecans.
I dislike nuts. Are there options for me?
There are three nut-free granolas: Maple Granola Original Granola, Maple Vanilla Gluten-Free Granola and Choco Granola. We also offer muesli with no nuts, as well as gluten-free rolled oats.
Product note (March, 2021): Due to COVID-19, we only have a limited number of flavors and sizes available at this time. Also, select flavors are only available during certain months of the year. Check our social media channels, the Shop tab, and the Blog for updates.
Allergen Statement: Our nut-free granolas and healthy snacks are produced in a facility where nuts (almonds, cashews, pecans, pistachio, and macadamia), dairy, wheat, legumes and coconut are present. The package may contain naturally occurring items such as stems, pits, or shell fragments. If you have (or are in contact with someone who has) nut allergies, please use caution.
Nuts, like many things, should be consumed in moderation, due to the high saturated fat content that's in some varieties. Mixed into a balanced diet, however, they're a good way to get healthy fats, and, not to mention, they're a tasty addition to granola!
Choose a nut-rich granola like Go Nuts, or a variety that only features one type, like Granola Blues, and get eating with your newfound knowledge of nuts!