Find Your Granola
True North
We are a local family-owned Vermont company offering 14 flavors of granola (11 in our regular product lineup, plus 3 seasonal varieties), chock-full of fun, healthy, and tasty ingredients. Try our granola today to see why our customers continue to say, "Simply the best granola I've ever had."
---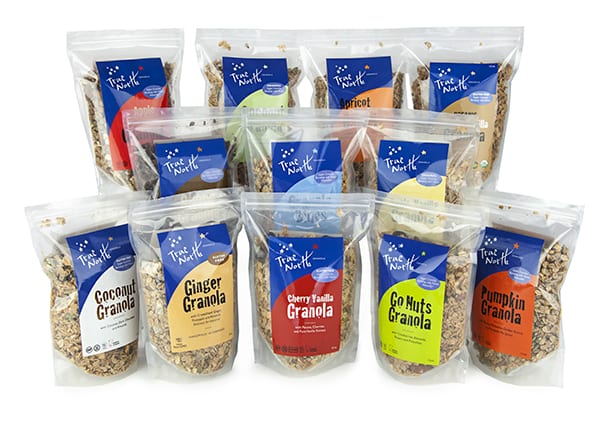 Try Our Granola Subscriptions
Save 5% on your granola order when you sign up for a subscription! You no longer need to remember to order your granola. Have your favorite granola delivered on a regular basis.
Subscription Benefits:
Save 5% on every order of flavorful, crunchy granola.
Available for all sizes.
Enter your information just once for an endless supply of granola.
No need to remember to stock up – We'll remember for you!
3 Delivery frequencies to choose from: every 2 weeks, every month, or every 2 months.
Delivered according to your desired frequency schedule.
---
From our blog
Read our regularly-updated blog to learn about our activities, get new recipes, understand the health benefits of the ingredients we use, or get a sneak peek into new flavors. We welcome your feedback on our content, always.
---
Here at True North Granola, we're nuts about nuts! It's no wonder that they make a crunchy, delicious addition to our products, but which ones are used, and what are their benefits? We'll break it down for you.
As foliage season comes to a close, and the frost comes, chances are that you're finalizing holiday travel plans, getting holiday recipes out of storage and making gift lists. It's time to get into the holiday spirit, and we can help! Our assortment of granola gifts will delight those on your list this year.
We know your life is busy, so we've made it even easier to get the granola you want, when you want it, thanks to our new subscription program. Get all of the details about the subscription program here.