Find Your Granola
True North
We are a local family-owned Vermont company offering 14 flavors of granola (11 in our regular product lineup, plus 3 seasonal varieties), chock-full of fun, healthy, and tasty ingredients. Try our granola today to see why our customers continue to say, "Simply the best granola I've ever had."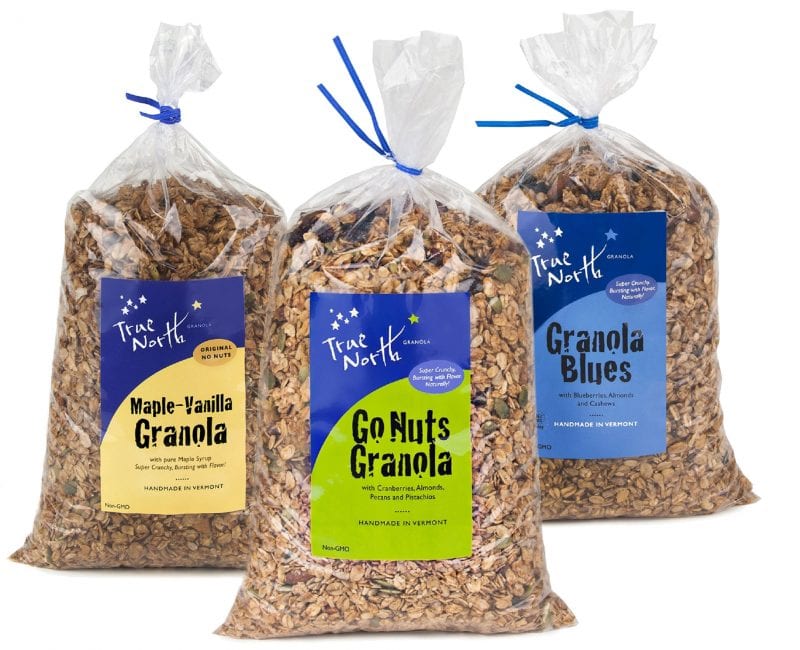 Bulk Granola
True North Granola is available to purchase online in bulk sizes of 3, 5, or 10 lb. bags; our granola freezes very well for up to 6 months.
---
Try Our New Flavors!
We put our test kitchen to work this year, and, after multiple iterations of each variety, we developed two new unique flavors: First Date Granola and Nutty No Grainer Mediterranean Blend.
They stand out in many ways—one is organic, one contains no added sugar, and both are vegan and eliminate the use of refined sugars (maple syrup only). The Mediterranean Nutty No Grainer is our first foray into a SAVORY GRANOLA!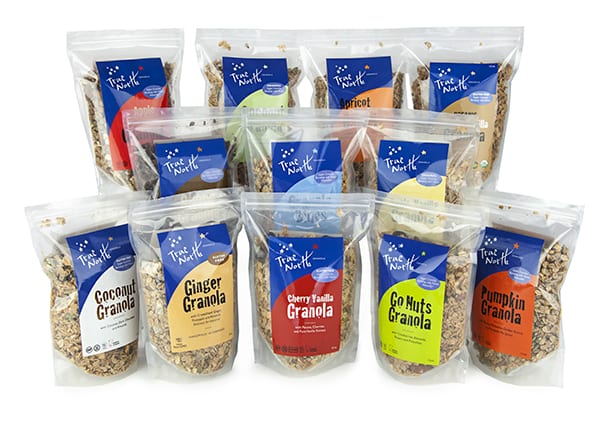 Join Our Granola Club
The ultimate gift from Vermont–clean food free of chemicals or preservatives, always freshly made, super crunchy and NEVER too sweet. We offer 3 different clubs which you can join for 2 months, or up to 12 months. Share this gift with your friends or loved ones–in fact, with all the granola lovers in your life!
Club Benefits:
Freshly baked, never too sweet, clean and crunchy granola.
Delivered according to your desired monthly schedule.
Be the first to sample our newest products!
You may include a personalized message which we will send on a lovely True North Granola postcard to your recipient.
---
From our blog
Read our regularly-updated blog to learn about our activities, get new recipes, understand the health benefits of the ingredients we use, or get a sneak peek into new flavors. We welcome your feedback on our content, always.
---
What company couldn't be happier to learn that U.K. compasses will point 'TRUE NORTH' this month for the first time in over 300 years? True North Granola, of course! In a way, our granola will be in the sights of the global society (or, more specifically, the sights of those in the Greenwich area of London, where this will occur)!
Why should you care about GMOs? Do True North Granola's products have them? What goes into the granolas? Read the latest blog post for answers.
By Kate Springer If you've ever wandered down the granola aisle in a chain grocery store, picked up mass-market products and looked at the nutritional details, chances are you've noticed a pattern. They're often high in sugar (and have at least 9 grams per ¼ cup serving), and therefore high in carbs. Any granola with…
keep reading 4 Low-Carb Granola Varieties – True North Granola