Update: We currently have only a limited selection of products available due to COVID-19. Read more
Find Your Granola
True North
We are a local family-owned Vermont company offering 14 flavors of granola (11 in our regular product lineup, plus 3 seasonal varieties), chock-full of fun, healthy, and tasty ingredients. Try our granola today to see why our customers continue to say, "Simply the best granola I've ever had."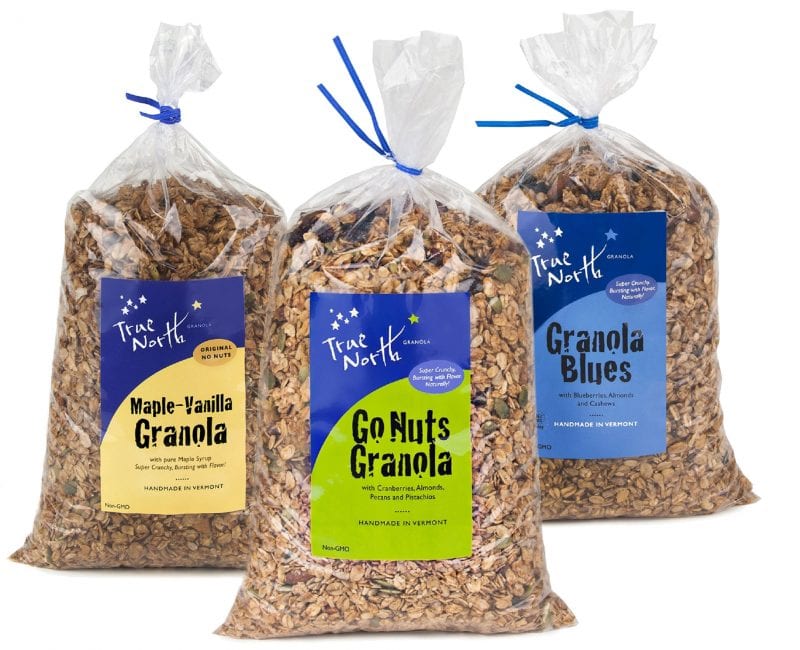 Bulk Granola
True North Granola is available to purchase online in bulk sizes of 3, 5, or 10 lb. bags; our granola freezes very well for up to 6 months.
---
Try Our New Breakfast Bundle!
Find an exciting way to enhance your True North Granola purchase with this option: The Breakfast Bundle. It includes our most popular granola, our delicious fruit, and exceptional coffee, all in one package.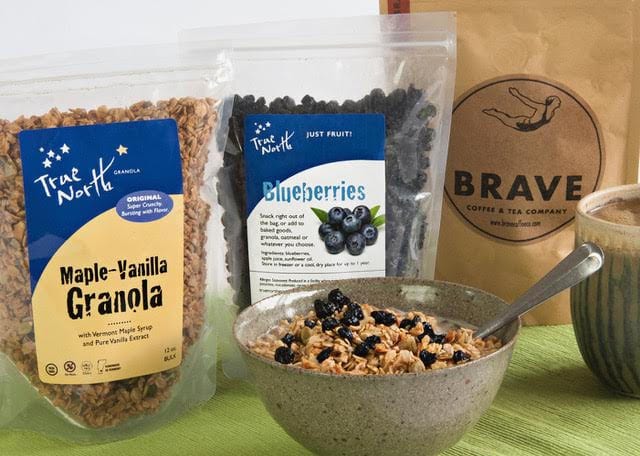 ---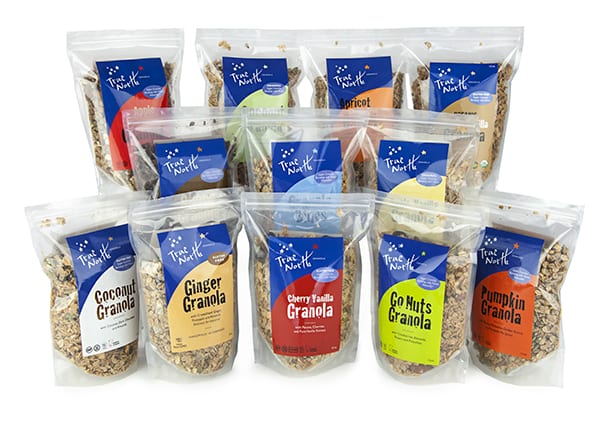 Try Our Granola Subscriptions
Save 5% on your granola order when you sign up for a subscription! You no longer need to remember to order your granola. Have your favorite granola delivered on a regular basis.
Subscription Benefits:
Save 5% on every order of flavorful, crunchy granola.
Available for all sizes.
Enter your information just once for an endless supply of granola.
No need to remember to stock up – We'll remember for you!
3 Delivery frequencies to choose from: every 2 weeks, every month, or every 2 months.
Delivered according to your desired frequency schedule.
---
From our blog
Read our regularly-updated blog to learn about our activities, get new recipes, understand the health benefits of the ingredients we use, or get a sneak peek into new flavors. We welcome your feedback on our content, always.
---
Healthy, delicious, and high quality Vermont-made granola makes the perfect work snack — in the traditional break room or in home offices across the country. In the case of schools, cafés, and hotels, it also makes a great menu addition. Learn more about what True North Granola can offer you business in this blog.
Our company, along with fellow makers, including Runamok Maple and Stowe Cider, was recently featured on the VTMakers webpage, as well as on social media, where accounts such as @maddietsang (who took the wonderful picture above—thanks, Maddie!) and @jannaonajaunt showed off their boxes of Vermont goodies, which, among other items, featured some granola snack packs…
keep reading True North Granola Featured on Official VT Tourism Website
In light of the current situation, we're pleased to share some good news—True North Granola was recently accepted into the Good Food Guild, a prestigious organization in the natural food space. We're part of the "Snacks" and "Other" categories. Thanks to our loyal customers and community members, and our fellow specialty producers, for the support…