Find Your Granola
True North
We are a local family-owned Vermont company offering 11 flavors of granola, chock-full of healthy , specialty food ingredients. Try our granola today to see why our customers continue to say, "Simply the best granola I've ever had." We pay close attention and employ strict protocols when producing and protecting our allergen-friendly products, those with no nuts, no wheat, no dairy, or no grain. However, please take note that these allergen-friendly products are also made in a facility which uses all listed ingredients.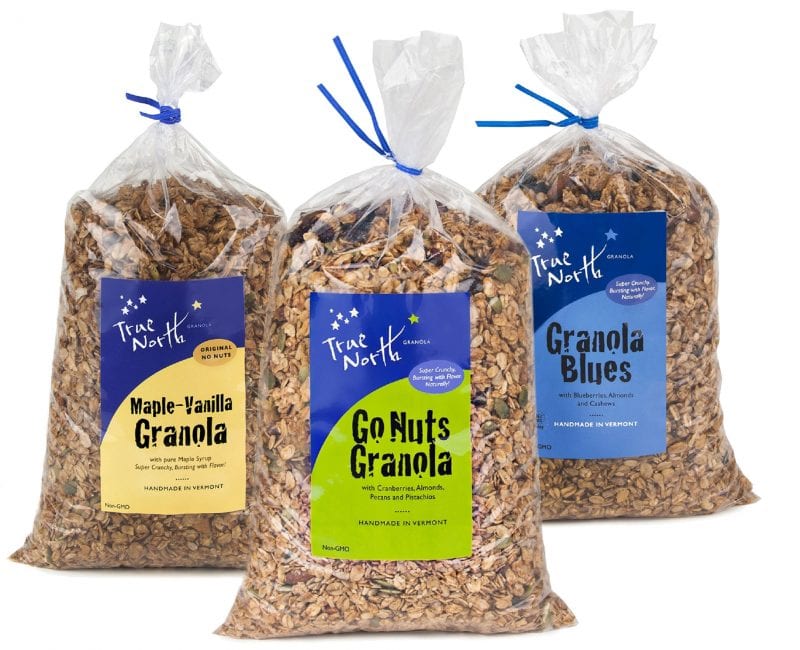 Bulk Granola
True North Granola is available to purchase online in bulk sizes of 3, 5, 10 or 20 lb. bags; our granola freezes very well for up to 1 year.
---
Try Our New Clusters!
Why choose one when you can sample and enjoy two or three of our delicious and nutritious granolas? Our new clusters offer a great way for you to enjoy your favorites and try something new! Three varieties now available including 12 oz Granola bags of the following flavors:
Chocolate Cluster includes Chocolate Granola and Coconut Granola
Gluten-Free Cluster includes First Date, Ginger Lemon and Organic Maple-Vanilla Granolas
Regular Cluster includes Granola Blues, Go Nuts and Maple-Vanilla Original Granolas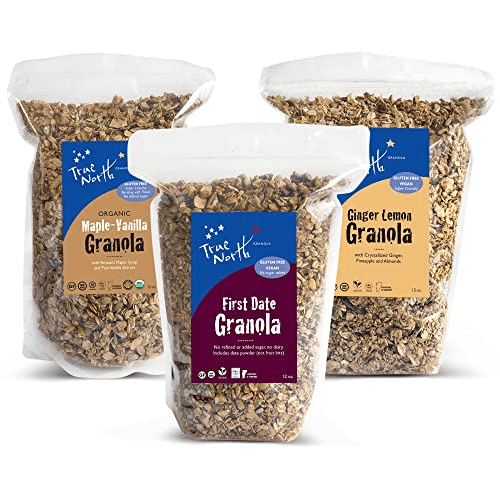 ---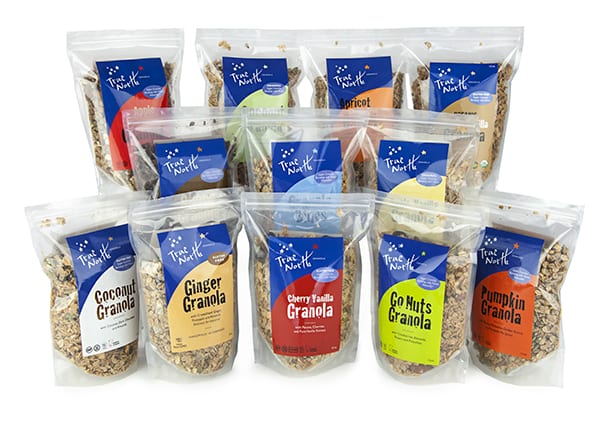 Try Our Granola Subscriptions
Save 7% on your granola order when you sign up for a monthly subscription, 5% when it's an every-other-month subscription, and 3% on subscription orders that ship every third month! You no longer need to remember to order your granola. Have your favorite granola delivered on a regular basis with our one-step process. We do the rest!
Subscription Benefits:
Save 7% on every monthly order of flavorful, crunchy granola.
Save 5% on every bi-monthly order (every two months).
Save 3% on orders that ship every third month.
Available for all sizes.
Enter your information just once for an endless supply of granola.
No need to remember to stock up – We'll remember for you!
3 delivery frequencies to choose from: every month, every other month, or every third month.
Delivered according to your desired frequency schedule.
---
From our blog
Read our regularly-updated blog to learn about our activities, get new recipes, understand the health benefits of the ingredients we use, or get a sneak peek into new flavors. We welcome your feedback on our content, always.
---
We're all for highlighting our Cherry Vanilla Granola, which includes Montmorency tart cherries. Get the scoop on them in this blog post.
At True North Granola, we love nuts, especially pecans! Since April is National Pecan Month, it's a great time to think about how you can incorporate this nutritious and rich nut into your diet. We're here to give you a refresher on why pecans deserve some extra attention, plus which of our granolas and Nutty…