About Granola Subscriptions
Get your favorite True North Granola delivered to your door on a regular basis! Our granola flavors are available for subscription with a bonus of 7% discount on each order for monthly subscriptions, 5% discount for orders that ship every other month, and 3% discount on orders that ship every three months. Subscribe to as many flavors as you'd like. You can choose to pause or cancel any time. Please be aware that although we make two flavors which do not contain nuts, our Maple Vanilla and Choco Granolas, they are made in a facility (at separate times and with stringent protocols in place) which has processed other flavors with nuts.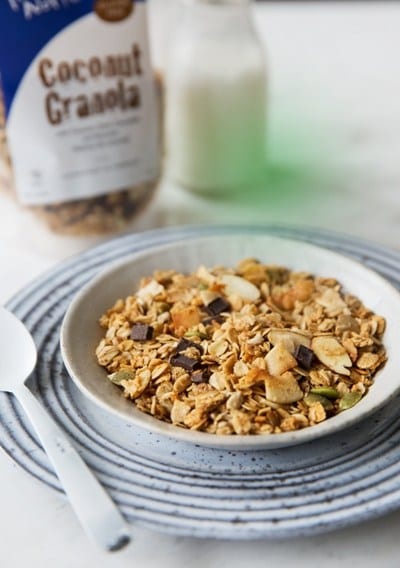 How does it work?
Subscribing is easy. There are three different ways to Subscribe:
Choose a granola flavor
Pick a size and frequency
Add to your cart
Repeat this process to order multiple flavors.
Check out as normal
2. Upgrade in your cart
If you've already added a flavor to your cart, you can upgrade it to a subscription in you before you check out.
The Quick order form allows you to select multiple flavors at once to add to your cart. Use the drop-down filters to select flavor, size, or preferences. Or use the search function to find what you're looking for. Then, choose a frequency, select the "buy" checkbox. Once you've selected all of your options, click the "add selected to cart button". Then check out as normal.
How do payments work?
You will only need to enter your payment method once. Once subscribed, your payment will be applied regularly on your chosen frequency. Your granola is shipped once your payment is processed.
How do I change my subscription?
Login to your account to see and adjust your granola subscriptions. Once logged in, you can change the quantity or duration of your subscription, update your payment method, pay early by "renewing now" or cancel your subscription.
Can I use promo codes when signing up for a subscription plan?
Yes! You sure can. Through our e-newsletter we send out monthly promotion codes to get 5 or 10% off 1 or 2 specific products each month. This coupon will also work when you sign up for a subscription plan, however, the discount will only be applied to the first month's order(s). After that, your subscription will renew at the regular price.
Granola subscriptions are not currently available for clubs, gifts, or seasonal granola flavors.