The True North Granola Mission
Create the finest granola available to consumers who seek to eat healthy foods.
Satisfy a broad range of nutritional and dietary needs.
Support public education.
Support our employees' needs, financially and emotionally.
Learn about True North Granola and how two educators with a passion for granola started our granola company in 2007 from our home kitchen in Vermont!
---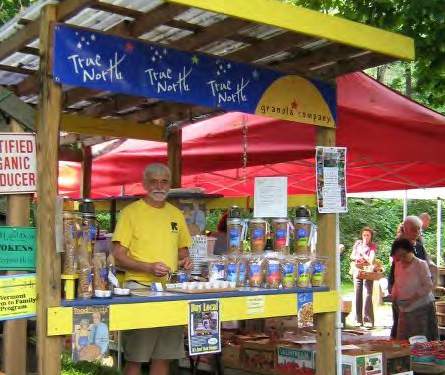 Where it Began: Brattleboro Area Farmers' Market
Starting the business from their home kitchen as a "home hobby", the Chriscos began selling their Go Nuts Granola at the Brattleboro Area Farmers' Market in the summer of 2007. This one flavor of granola quickly became a top hit at the market and gave birth to so many other varieties that meet our mission. Without solicitation, many customers would share, "This is the best granola I've ever had." The Brattleboro Area Farmers' Market became our launching pad, and is Southern Vermont's premier farmers' market, featuring over 50 vendors with agricultural products, crafts, live music and ethnic foods from around the world. Whether you are a local or a tourist, you can stop by to get your weekly produce and grab a quick lunch. True North Granola is no longer a "home hobby," as it is neither in the home nor a hobby any longer. Our customers created this business and our deeply competent and loyal staff members make it happen.
Hear it from the Locals
---
Our Stories from our blog
Read our regularly-updated blog to learn about our activities, get new recipes, understand the health benefits of the ingredients we use, or get a sneak peek into new flavors. We welcome your feedback on our content, always.
---
---
---
Our Videos
Watch the magic of making delicious hand-made granola happen in real time.
---
---
August, 2021 Our name!: If you have landed on our website, you've made an excellent choice for your granola needs. We assure you that you won't be disappointed. Our name, True North Granola, means a great deal to us, and we hope it will to you, as well. We want every customer to believe that…
A letter to True North Granola's amazingly wonderful, loyal and dedicated customers To our Dear Customers: We know that you, like all of us, are focusing intently on the Covid-19 virus and its potential impact on each of us, our families and friends and co-workers, and our country. So that you are aware of how…
keep reading COVID-19 letter from True North Granola's owners