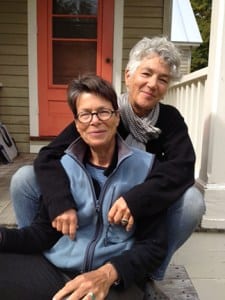 Rock River Studios Design Team 
As designer and photographer, we developed True North's graphic image, and it has been a True Love! Over the last 10 years we've gotten to know Ingrid and Franklin and are so honored to be part of such a fine team of people!
We moved to Vermont in 1990. Our path took us from NY, to the Boston advertising and publishing world and then up to South Newfane, VT. We started Rock River Studio and for many years specialized in local food packaging design and promotion. These days Carol can also be found hanging over a potter's wheel at Clayworks in Brattleboro, and Chris working on a new body of photographic images in her studio along the Rock River.