By Kate Springer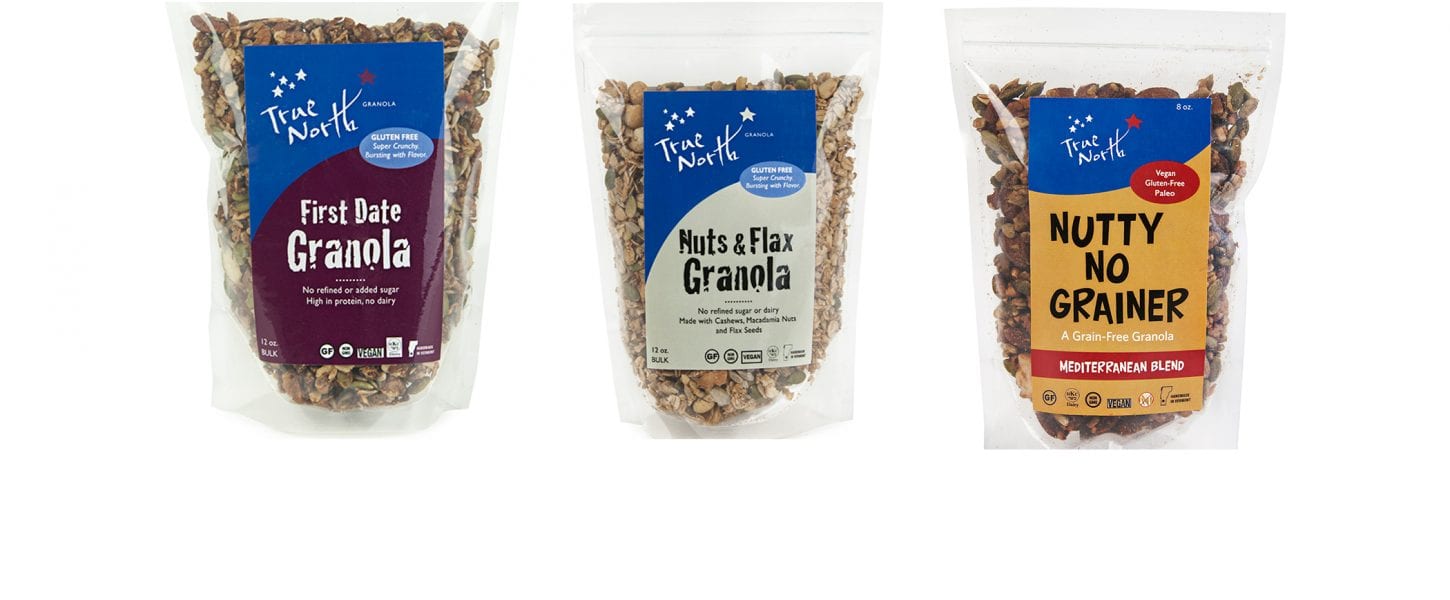 We're ecstatic to announce our three new products: First Date Granola, Nuts & Flax Granola and Nutty No Grainer Mediterranean Blend. First Date Granola, a no-sugar-added offering, gets its name from one of the main ingredients, date powder. Date powder is made from dates, an all-natural fruit, which have been dried and ground up. Nuts & Flax Granola is a heart healthy blend of gluten-free oats, pumpkin and sunflower seeds, spices, nuts and golden flaxseed. For those looking for something savory, Nutty No Grainer Mediterranean Blend packs a mouth-watering mix of nuts, seeds, pistachios, desiccated coconut and a savory spice blend into every bite. The products will be available in regular size, snack pack and bulk-sized bags.
What makes these new products special?
All three of the products are gluten-free, dairy-free and vegan. No gluten or animal products are in these.
In addition to meeting requirements for a variety of diets, the offerings are low in carbohydrates and sugar. First Date Granola has only 3 grams of sugar per serving, which comes from dried date powder and the natural sugar in carbohydrates. Nutty No Grainer Mediterranean Blend also has no added sugar. Nuts & Flax Granola only has 2 grams of sugar in each serving, from a touch of Vermont maple syrup.
Nutty No Grainer Mediterranean Blend is our first savory product, and First Date Granola our first no-sugar-added granola.
They're something new to try. If you want to add a new granola into your meal time rotation, now's the time.
How have customers reacted to the offerings?
In the short time that these offerings have been available, they are already proving to be a hit with customers.

The Nutty No Grainer Mediterranean Blend sold out at the recent Cotton Mill Open Studio and Holiday Show event, and a high number of the other two were sold as well. Aside from being sold at events, such as farmers markets, numerous orders have been placed for these products thus far. Fans have expressed their excitement about the product launches in person and via social media, and this hype shows no sign of stopping anytime soon.

True North Granola Co-Founder Ingrid Chrisco recently commented on the feedback she's been getting about First Date Granola.

"Customers are eager for no sugar added granolas, and this is our first effort in experimenting with the use of date powder, which is made up of dried, pulverized dates. Apparently, we have hit a nerve. Feedback has been exceptional," Ingrid said.

Try First Date Granola, Nuts & Flax Granola and Nutty No Grainer Mediterranean Blend today, and be sure to let us know what you think!