First Date Gluten Free Granola–Diabetic-Friendly
$11.49 – $54.99 — or subscribe and save up to 7%
Low Sugar, High Protein Granola
This tasty granola has no added sugar. It's vegan, gluten-free, higher in protein than most of our other granola (5g), and the inclusion of date powder adds just the most minimal amount of sweetening. Date powder is made from dried dates, an all-natural fruit, which have been ground up. Give it a try and we'll sure you'll agree – love at first bite!
*These are now non-organic but entirely Non-GMO products that contain some organic ingredients. Older photos and images have not yet been replaced. 
Due to the rising cost of organic ingredients, First Date GF Granola will no longer be USDA Organic. We will continue to use organic ingredients in this product as we can. These products will remain Gluten-Free and 100% Non-GMO which means there will be no preservatives, chemicals, or additives to any ingredient, just as has been. We are sorry to report this change but ingredients' supply chain difficulties, as well as the inordinately rising costs of ingredients, has caused us to make this change.  
Description
Gluten Free, Non-GMO, Certified Kosher, Vegan, No Refined Sugar, Peanut Free, Soy Free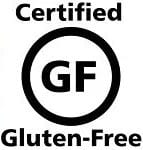 Ingredients
Oats Conventional, Pecan Pieces, Pumpkin Seeds, (pepita), Organic, Natural, Organic Sunflower Seeds, hulled, raw, Coconut Medium Shredded, ALMONDS, THICK SLICED, Pea Protein Powder, Organic ground cinnamon, Extract, Maple, DATE POWDER, Sea Salt, Pure Vanilla Extract, Gluten-Free, Organic ground cloves