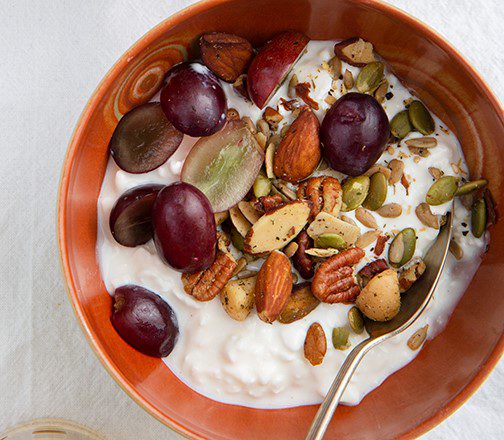 August, 2021
Our name!: If you have landed on our website, you've made an excellent choice for your granola needs. We assure you that you won't be disappointed. Our name, True North Granola, means a great deal to us, and we hope it will to you, as well. We want every customer to believe that s/he has each found the ultimate destination in granola, your granola true north!
In the past, we have told you our story. From Educators to Entrepreneurs is an apt summary. After careers in Education that exceeded 40 years for Ingrid and Franklin, Ingrid was ready to turn a 'home hobby' into a business. While it is no longer at home or a hobby, it has become a thriving business with staff members who are just as dedicated to it as the owners.
Our Growth: During the past 14 years, our business has grown through our retail and wholesale sales to customers across our country.  Recently, we have begun to co-manufacture our granola products for a chocolate entrepreneur, and it is working out very well. We are now looking for other private label accounts. Co-Manufacturing or Private Labeling allows us to make our products, or your products, with your business name assigned to them. We have had a successful experience in doing so, and would welcome a new opportunity to do the same. Contact us at info@truenorthgranola.com or call Ingrid at 802-254-5806 to discuss your options.
Our Products: From the very beginning, we've explored various granola options, but some things have not changed. We remain a premier, specialty granola company which values healthy, chemical-free, entirelynon-GMO granola that meets a broad range of nutritional and dietary needs:  low sugar, low carbs and low fat; classic regular as well as gluten-free, nut-free, dairy- free and grain-free; paleo or keto, and above all, products that are consistent in their quality, crunch and exceptionally pleasing taste.  Take a tour through our website, review our product offerings, and read what some of our customers have to say about us.
A Change is About to take place: We have tried to move forward with all Organic Ingredients, but have had difficulty meeting the increasing pricing demands of organic ingredients, now more than ever before the Covid 19 pandemic. As a result, we are converting our Coconut GF and First Date GF Granolas to becoming non-organic. Look for changes on these product pages soon. Coconut and First Date Granola will remain Gluten-Free. Our Maple Vanilla GF Granola will remain Organic for those who desire an Organic product.
What are your purchase options?: We sell units that begin with 1 oz. packets all the way up to 25 lb. bulk cases, and many options in between these. We respond to your requests and questions as quickly as we can and will do our best to try to meet your unique needs. Again, read our reviews to see how well we work to address our customers' requests. 
One stop shopping experience!: We offer customers many ways to purchase and what we are very proud of is our subscription program.  You order one time, choose your product(s) and frequency of delivery, and we do all the rest, every time.
How can you learn more about True North Granola? Sign up to receive our newsletter and get the latest promotions and learn about our newest products; read our blogs posted on the website, written by Kate, our amazing social media staff member; sign up to receive our monthly newsletters written by Matt, an equally talented staff member. Our communications through social media, our website, blogs and emails serve to educate and enhance your understand of who we are.
And if you do order… we will be delighted to hear from you. Leave us a review; tell us how we can improve; offer suggestions, for new products or other ideas.
Lastly, enjoy your granola experience with TNG and find us on FB, Twitter, Linked in and Instagram .
Thank you for landing on our website and we'd love to hear from you. Ingrid and Franklin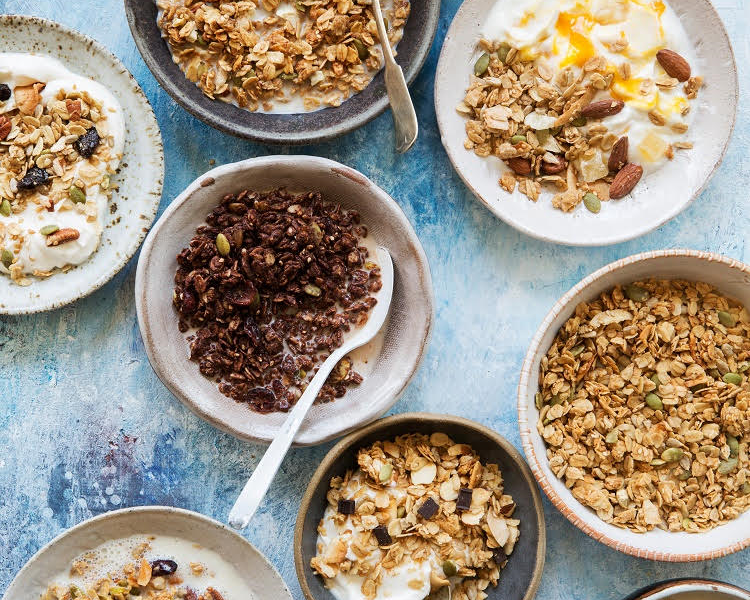 Bowls with some of our favorites
With gratitude, and our continuing best wishes for your extended good health and safety in 2021.
Ingrid and Franklin, Owners, True North Granola,