By Kate Springer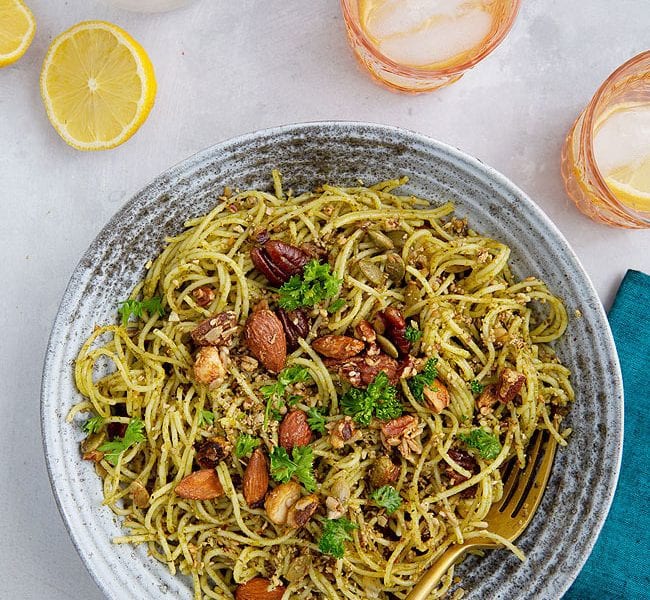 We know you love meals that aren't only healthy, but quick, too. Our Nutty No Grainer Mediterranean Blend, which is True North Granola's only savory snack mix, features nutrient-rich ingredients and a unique flavor. It lends itself to plenty of easy meals: salads, baked meats and fish and whatever you can come up with!
Chances are that Pasta Night is on your weekly meal rotation— but, instead of serving bowls of empty calories loaded with heavy sauce, up your dinner game by sprinkling Nutty No Grainer Mediterranean Blend over pesto pasta. Toss in some fresh herbs, squeeze some lemon juice on top and let the blend of toasted nuts, seeds and spices work its magic. Delizioso! Searching for the perfect pesto pasta recipe? Check out the one below.
Spinach Walnut Pesto Pasta with NNG Mediterranean
*Recipe adapted from Lidia's Italy in America, by Lidia Matticchio Bastianich (of Lidia's Italy fame) and Tanya Bastianich Manuali
Ingredients
1 teaspoon salt, plus some for the pot
9-ounce bag fresh spinach, stems removed
2 packed cups of basil leaves (fresh is ideal)
2 cups walnut halves, toasted
4 garlic cloves, peeled
1 1/2 cups plus 2 tablespoons olive oil
1 pound pasta of choice
1/2 cup grated Grana Padano or Parmigiano-Reggiano cheese
Lemon juice, for topping
How To
Put salt and water in a large pot. Bring it to a boil for the pasta.
Pulse the spinach, basil, walnuts, garlic and remaining salt in a food processor. Slowly add 1 1/2 cups of the olive oil. Mix it into a smooth paste. Stop if needed to scrape sides of the bowl.
Pour pasta into the boiling water. Cook al dente.
Scrape half of the pesto into a large skillet, and add 1 cup of water from the pasta pot.
Drain pasta and transfer to the skillet. Toss the pasta with the pesto, coating evenly. Drizzle with lemon juice and the remaining olive oil. Top with Nutty No Grainer Mediterranean Blend, and serve.
Note: The remaining pesto can be frozen for future use. Pack it into a plastic container, and thaw it in the fridge before consuming.
Does the idea of green pesto-topped pasta with our snack mix make you drool? Go nuts and stock up on Nutty No Grainer Mediterranean Blend (plus Go Nuts Granola) through the end of the month. Customers can take 15% off bulk bags by using the code "March20" at checkout. Buon appetito!