By Kate Springer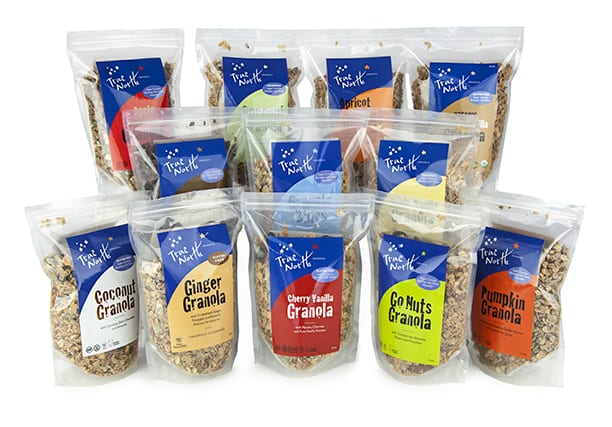 Anyone who's looking for granola knows that there are so many choices on the market. So, why pick True North Granola, and what makes our Vermont-made granola a standout choice? Check out 10 reasons why.
1. High Quality Ingredients
Our granola recipes include Vermont-made ingredients whenever possible, and all of our products are non-GMO. You can actually pronounce the ingredients we use in our granola, unlike many mass-made products out there. Fuel your body with something you can feel good about.
2. Locally-Made with Love in Vermont
Our products are made with love and care by a team of bakers in Brattleboro, Vermont. When you enjoy our granola, you can know exactly where it was made, and get a taste of the Green Mountain State, too.
3. Good-for-you Ingredients
All of our products include nutritious ingredients, such as nuts, seeds and berries. Eating our granola in moderation can be a great way to add some of these to your diet. We use Vermont-made products whenever possible, such as pure maple syrup from Hidden Springs Maple. No processed ingredients from far away for us!
4. Tasty Flavors
Our granolas suit a variety of tastes, from chocolate lovers to savory fanatics. With flavors such as our original Go Nuts Granola, to granola with coconut, it's easy to find one that you'll be reaching for, handful after handful.
5. Options to fit Your Diet and Lifestyle
It's important to us to make products that work for a variety of different lifestyles and diets. Our products come in standard, bulk and snack pack-sized bags, so you can get as much or as little granola as you want. We offer paleo granola, keto granola, organic granola, low sugar granola, vegan granola, nut-free granola, grain-free granola and gluten-free granola, as well as traditional granolas to please all of our granola fans.
6. Next-Level Customer Service
At True North Granola, we're not inaccessible people whose names you don't know (if you haven't done so, meet some of our team here!). We take pride in our next-level customer service: writing notes to go with granola orders, answering questions, providing suggestions and just checking in on our loyal customers. We're always just a phone call, email or social media message away. Don't be afraid to reach out to us online, at info@truenorthgranola.com, 802-254-9200, or on Facebook, Twitter and Instagram.
7. Easy Shopping
We make shopping for Vermont-made granola easy. Want to see what our products look like in person? Find them at your favorite local specialty food store. Like the convenience of online shopping? Our website makes it easy to buy granola online to see all of our current offerings and select what you want. Would you prefer to meet some of us in person? Come find us vending at events in Vermont and across the country.
8. Fast Delivery Time
We aim to package and ship deliveries soon after they're placed, within 1-2 days (for U.S. orders), so you'll never be waiting too long to get your granola.
9. Great Granola, Guaranteed
We guarantee that you'll love our granola, but if you're unsatisfied, please contact us. We'll make every effort to remedy the issue.
10. Our Mission
Creating the finest granola available to consumers who seek to eat healthy foods, as well as helping them find their 'granola true north' is our goal every day. We aim to entice those who try our granola to say freely and with passion, "This is the best granola I've ever had."
In addition to this goal, we support our community by donating products to local organizations and schools. True North Granola founders Ingrid and Franklin Chrisco are lifelong educators, and recognize the importance of healthy foods in schools. By giving children access to tasty granola, our company is helping them discover the joys of healthy eating.
We believe we make the best granola out there, and hope you agree. To our existing customers: thanks for appreciating what we do, and for your continued loyalty. As for our new customers, thanks for your interest in our products, and we can't wait for you to try our delicious, addictive, handmade granolas.