By Kate Springer (Updated 11/2023)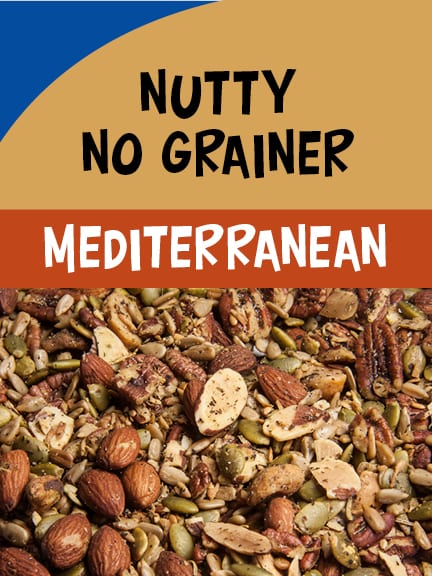 Most store-bought granola are not keto-friendly since most are grain-based and include enormous amounts of sugar. Some granolas, however, such as our Nutty No Grainer Mediterranean, are keto-friendly.
We're proud to offer this gluten-free keto granola; it's our first foray into making a savory granola variety, as well as taking our products from breakfast to dinner.
This blend of almonds, pecans, pistachios and macadamia nuts works in harmony with pumpkin, sesame, sunflower and golden flaxseeds, with some olive oil, coconut and lemon zest in the mix.
Not only is it keto, but it's also heart-healthy, low carb, paleo, vegan, grain-free and gluten-free. Topped with our secret spice blend, this addictive mix has become a customer favorite. 
Now, let's take a step back and answer some basic questions about the keto diet.
What is the keto diet?
With all the diets out there, you've probably heard of the keto (short for ketogenic) diet. The keto diet is a protein-packed, fat-rich diet that can offer health benefits to those who follow it properly.
Those who are on the keto diet replace most carbohydrates with fats. By reducing carbs, your body goes into ketosis, when it becomes easy for it to convert fat into energy. Fat becomes ketone bodies, which are stored in the liver, and make their way to the brain.
Essentially, these create energy for your brain and your body. In contrast, most cells use blood sugar, which is from carbs, to make energy. With the absence of carbs in keto diets, stored fat is broken down through ketosis, so energy is generated in an alternative way until carbs are reintroduced in your diet.  Ketosis usually occurs less than a week after you begin to eat less than 50 grams of carbs a day, but it varies.
Following a keto diet means avoiding easily-digestible foods, such as those that are high in sugar (like candy, cake and fruit juice), starchy and wheat-based, fruits (except for small amounts of berries), beans and legumes, root vegetables, "diet" products  (low- fat and "sugar -free"), alcohol and unhealthy fats.
Instead, people who are on the keto diet eat meat, fish, eggs, cream, butter, cheese, nuts and seeds, low-carb vegetables and condiments that aren't high in sugar and fat, plus healthy oils (such as olive and coconut oil).
What are the major benefits of the keto diet?
The keto diet is meant to be followed over a short period of time, not be a complete diet change.
Over time, you should lose weight, and it can help if you have a medical condition such as heart disease, cancer or epilepsy.
As always, we recommend consulting with a medical professional before you begin this (or any) diet. They can discuss whether or not the diet's right for you.
What kind of granola can you eat on a keto diet?
The key to eating granola on the keto diet is to find granola that is low in sugar and low in carbs. This isn't always easy to do. Many mass-produced granola varieties include 20 grams of carbs (or more!), plus refined sugars and other high-carb sweeteners.
To find a healthy granola you can eat on keto, look for a granola that:
Has 5g of carbs or less
Contain no grains
Contains no added sugars
Is high in protein and healthy fats
True North's Nutty No Grainer Mediterranean Blend is the perfect option!
Can you eat yogurt and granola on keto?
Yes, you can! But just like you need to choose a keto granola carefully, you need to choose yogurt carefully, too. Many brands of yogurt include many grams of sugar and are not keto-friendly. Look for a plain Greek yogurt, which is typically high in protein and fat but low in carbs. While yogurt does contain some carbs, you can eat it in moderation on keto.
Can you eat oats on keto?
While they're technically not against keto rules if eaten in moderation, oats are a high-carb food and definitely not keto-friendly. This is a big reason why many granola varieties are not keto-approved: they contain oats! Our Nutty No Grainer granola is made without any oats, significantly reducing the carb count!
I love the look of Nutty No Grainer Mediterranean, but how can I enjoy it?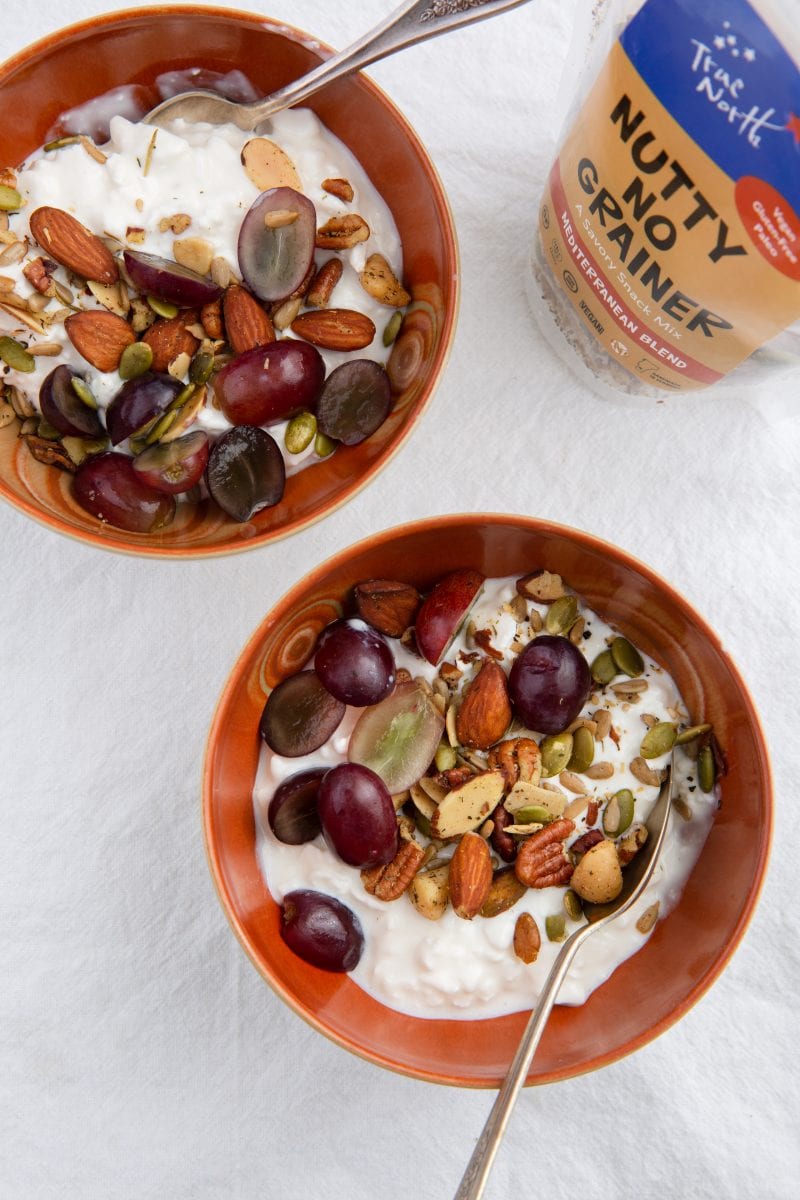 This staple is a winner right out of the bag, but it's also great for spicing up roasted vegetables, pasta, salads, cottage cheese or anything else your foodie heart desires.
Ways to Eat Granola on the Keto Diet
Add as a topping to roasted asparagus, broccoli and other vegetables
Use as a crunchy topping for cheesy-baked greens, cauliflower or broccoli
Make a protein plate with hardboiled eggs, grain-free granola and cheese
Use in place of croutons on salads
Sprinkle on cottage cheese or plain yogurt for texture and flavor
Need more ideas? Explore our full guide to the many different ways to eat granola.
What do customers think of this product?
Following NNG Mediterranean's rollout, we've gotten nothing but positive feedback.
"I use the Mediterranean Blend on salad every day and can't think of a salad without it. It totally makes it ping!"

– Carol Ross, loyal True North Granola fan
Have You Tried Granola on the Keto Diet?
Since this is our first attempt at making a keto-friendly granola, we'd love for even more customers to try it and let us know how we did. Keto or not, we encourage you to experience the magic of NNG Mediterranean for yourself.