By Kate Springer
This month, we're celebrating pecans, and more specifically, pecan granola. Not only is it Pecan Day on March 25th, but this particular nut is the perfect addition to granola. No wonder why it's the largest single-use nut that we put in our products! To learn more about pecans, and what their nutritional benefits are, read on.
Are Pecans Healthy?
Pecans, when not consumed in excess, can be part of a healthy diet. The Food and Drug Administration (FDA) has approved the following statement about nuts: "Scientific evidence suggests, but does not prove, that eating 1.5 ounces per day of most nuts, such as pecans, as part of a diet low in saturated fat and cholesterol, may reduce the risk of heart disease." Eating even just a small portion can substantially lower one's risk of health issues.
What are the Health Benefits of Pecans?
As if being heart-healthy wasn't enough, pecans are chock-full of nutrition.
Many Vitamins and Minerals: Pecans have more than 19 vitamins and minerals, including vitamin A, calcium and several B vitamins.
High Fiber: 1 ounce of pecans contains about 10% of the recommended Daily Value for fiber (25 to 30 grams). A serving of pecans is low in carbohydrates (about 4 grams) and high in fiber (3 grams).
Natural source of protein: Pecans are a natural way to get protein, plus, they have no cholesterol and not many carbohydrates.
Sodium-Free: Pecans are an excellent choice for reduced salt or sodium diets: they're naturally sodium-free.
Lots of Monounsaturated Fat: Pecans are high in monounsaturated fat, a healthy fat. A serving has 12 grams!
For additional information about the health benefits of pecans, look at The National Pecan Shellers Association website.
Pecan Fun Facts
Did you know the following?
Pecans are grown in 15 states (including CA, MO, GA, FL and NC).
It takes almost 10 years for a pecan tree to be in full production of nuts.
The U.S. produces over 300 million tons of pecans, which is almost 80% of the world's supply.
* Fun facts are adapted from the American Pecan Council's Fact Sheet
Pecan Granolas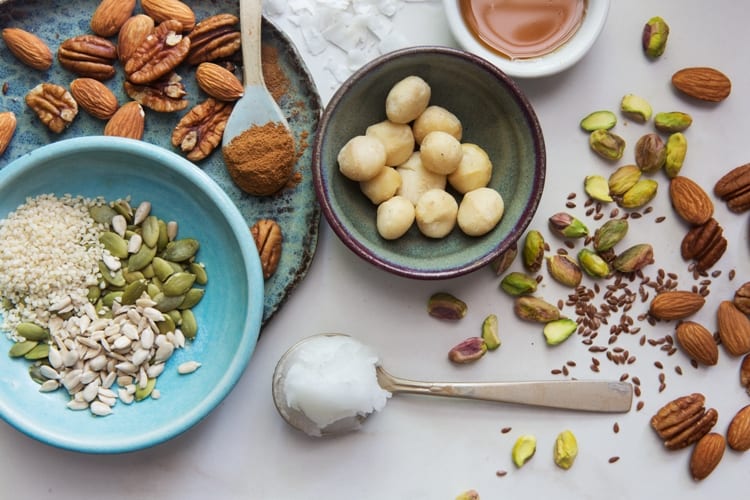 As an ingredient in our granolas, pecans, when roasted with our other ingredients, add some crunch and a burst of taste to each product's flavor profile. We get our pecans from Miller Pecan Company, a family-owned business in Oklahoma. There are currently 9 granolas with pecans: Apple Cinnamon, Go Nuts, Pumpkin, Cherry Vanilla Pecan, First Date and every flavor of Nutty No Grainer.
All of these flavors are on sale this month. Take 10% off all available sizes of our granolas with pecans, through March 31, with the code "March 19."