By Kate Springer
As foliage season comes to a close, and the frost comes, chances are that you're finalizing holiday travel plans, getting holiday recipes out of storage and making gift lists. It's time to get into the holiday spirit, and we can help! Our assortment of granola gifts will delight those on your list this year.
Our granola gifts are handmade in Vermont, and are available in multiple arrangements, including variety packs and gift bags. They're priced from $20-$69. Whether you give the gift of True North Granola out of love, gratitude or friendship, we look forward to helping you make a purchase for the special people in your life.
Granola Gift Boxes
Our granola gift boxes (with the exception of the Traveling Box) come packaged with stunning ribbon and a colorful picture of our products. Check out these options below.
Classic Granola Gift Box:  $27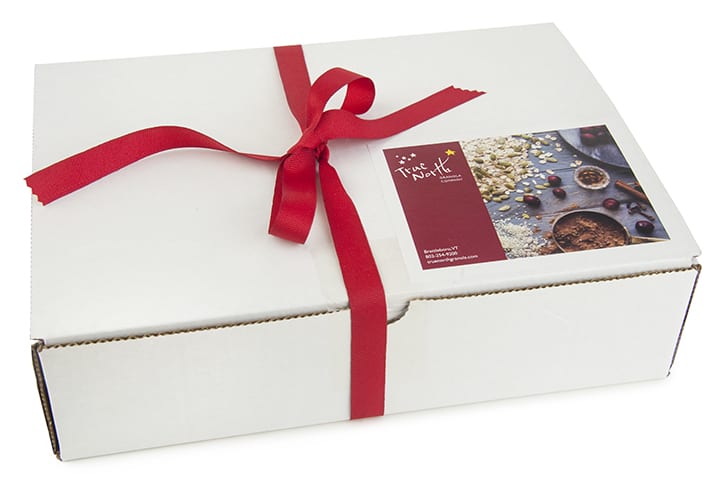 Wrapped up in a gorgeous red bow, this assortment of three 12 oz. bags of original granola is sure to please, while introducing people to the wonders of True North Granola.
Family Pack: $49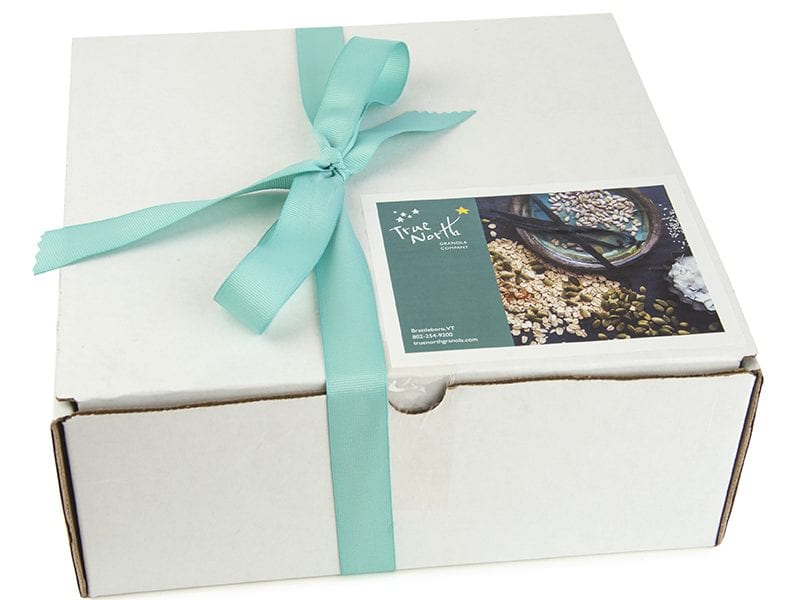 A beautiful aqua bow finishes off the Family Pack, which comes with enough granola to keep people happy long after the gift is given. The box includes four 12 oz. bags of granola, plus four 2 oz. granola snack packs. Choose either gluten-free or original granolas to gift.
Gluten-Free Big & Little Granola Assortment: $36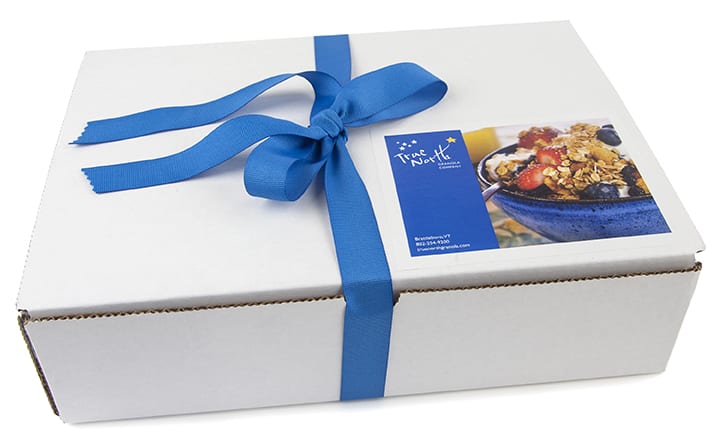 Looking for the right gift for someone who follows a gluten-free diet? Look no further than our gluten-free granola gift box, which comes packed with tasty options. With six packs of granola, comprised of three 2 oz. granola snack packs, plus three 12 oz. bags, this is a great choice for special diet followers.
Traveling Box: $69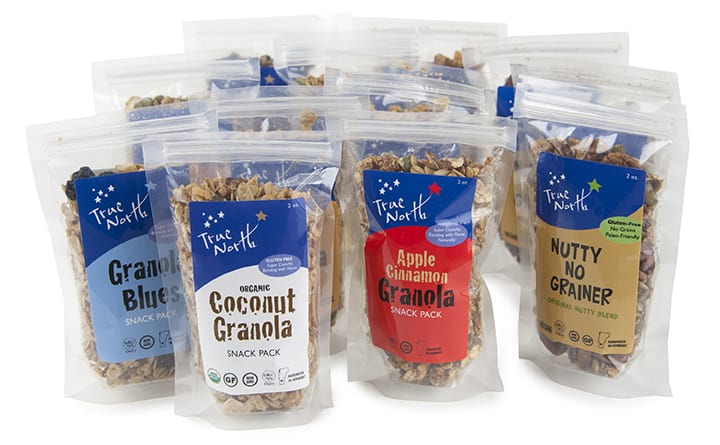 The Traveling Box has twenty four 2 oz. snack packs, which are ideal for active adventures or anytime a little pick-me-up is needed. It's a great way to sample many flavors of granola, so this is a go-to gift for someone who craves the outdoors or is trying our products for the first time. Choose which flavors you want the box to include upon ordering.
Granola Gift Bags
Our granola gift bags are handmade out of paper from the mulberry tree. Easy to transport and a joy to give, these have been a favorite over the years. Read on to learn more about the options available.
Variety Pack: $21-$39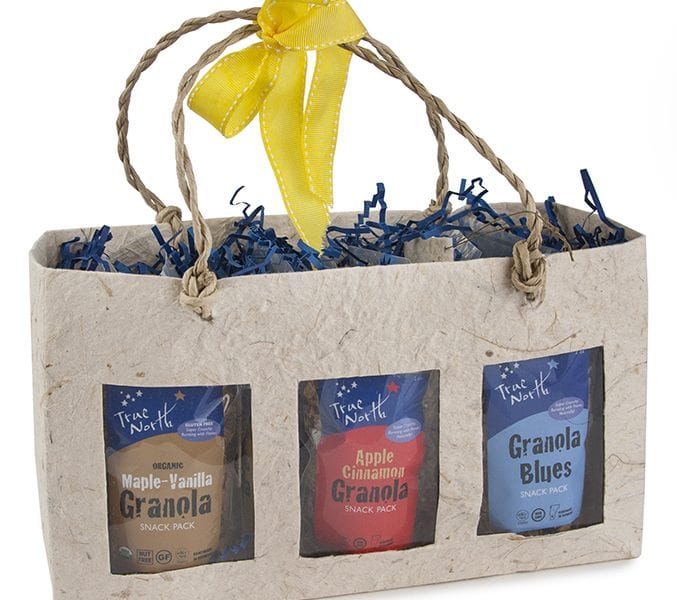 Our Variety Pack offers just that — variety. Choose either six or twelve 2 oz. granola snack packs to fill the bag.
Nutty No Grainer Sampler Gift Bag: $29
If your gift recipients love our grain-free and paleo mix of nuts and a special spice blend, check out this gift bag. With three 8 oz. bags, Nutty No Grainer lovers will be ecstatic to get this.
Nutty No Grainer Snack Pack Sampler Gift Bag: $20
Giving Nutty No Grainer in snack pack size just got easier. Six 2 oz. bags (two of each flavor — Nutty No Grainer Original, Nutty No Grainer with Cranberries and Nutty No Grainer Mediterranean) are carefully arranged in this sampler gift bag.
Other Granola Gifts
In addition to having granola gift bags and boxes, we offer a couple other options as well. Check them out!
Granola Club: $46-$284
Give the ultimate gift from Vermont with our Granola Club. The granola fans in your life can get two bags of super crunchy, high-quality non-GMO granola, Nutty No Grainer or muesli based on the schedule of your choice (2, 4, 6 or 12 months). It comes in three options: (Mixed Granolas – Gluten-Free and Regular, Gluten-Free Granolas and Regular Granolas), so there is something to excite everyone.
Wedding and Party Favors (Call or email for price)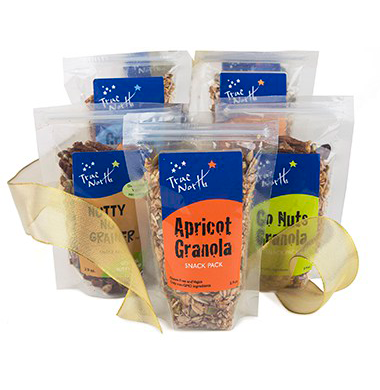 What better way to celebrate a wedding, party or special occasion than with Vermont-made granola favors! We offer multiple flavors of granola in snack packs units of 25-300. Select either one or multiple flavors, and, if desired, we can package them in sheer gauze bags. Please call or email us for pricing and details (info@truenorthgranola.com or 802-254-9200). Our granola gift bags have made special events even more personal.
Show your loved ones how much you care by giving True North Granola this holiday season. Happy holidays!