By Kate Springer
It's March, with spring and all of the changes it brings in full swing. We don't know about you, but we're ready to put aside the heavy layers and embrace the sunshine. With that comes two huge changes for True North Granola: a new product and the return of a beloved granola. Both of these offerings are gluten-free, keeping with our mission to create products that are not only delicious, but that also work for those with a variety of specialty-based diets.
Introducing our GF Muesli
Firstly, if you've been keeping an eye on all things TNG, you'll know how we often wax poetic about the wonders of our muesli blend. It's healthy, nutrient-rich and loaded with fiber, protein, antioxidants and iron (if you want the 411 on this breakfast classic of Swiss origin, read this blog post!). Just when you thought things could not get any better, we've gone ahead and introduced a new product. In response to the requests of loyal fans like you, we worked hard to develop a version of our Oats So Good Muesli that's naturally gluten-free.
This version is rich in whole grains, and can be enjoyed either hot or cold. We love eating it with non-dairy milk or heated up and topped with cut-up fruit, but it can be enjoyed however your heart desires! In addition to being gluten-free, this muesli is also nut-free, non-GMO and kosher. Seeds, including pumpkin and sunflower seeds, as well as apple juice-infused cranberries, are interspersed with a spice blend and other goodness for a truly amazing mouthfeel. This allergen-friendly muesli is like oatmeal, only better!
The Health Benefits of our GF Muesli
Additionally, super grains, including amaranth and buckwheat, take a starring role in this blend. Cultivated for thousands of years, they're filled with antioxidants and micronutrients. Alongside oats and oat bran, there are many benefits to consuming our GF Muesli as part of a healthy, well-balanced diet, including:
May increase brain function and muscle contraction: Stay healthy and strong!
Better bone and blood health: Be in good health while enjoying a delicious bowl of muesli.
Improves digestive function: Plenty of fiber will help there.
A healthy alternative: Muesli was invented by a Swiss doctor, and we made our blend in that tradition. It's good for you, without sacrificing taste. Much better than many processed breakfast items that are on the market today.
A taste of Europe and Vermont: While all of our products are Vermont-made, we're making food that's popular with Europeans accessible to our loyal TNG fans. Pretty great! Experience the glamour and feel of Europe, right from your house.
With this addition to the TNG product lineup, it's our hope that even more people can enjoy the wonders of our granola and muesli. Try it and discover why so many customers call TNG's offerings their 'favorite granola.'
We're offering this muesli at $8.75 for a 16 oz. bag. You can also get a 2-bag cluster for $17. In addition, our Oats So Good Muesli is available through the Subscription Program. Save 7% off a monthly subscription or take 5% off it you opt to get it delivered every other month. For those who don't consume a gluten-free diet, there's always the conventional Oats So Good Muesli as well! As always, we'd love to get feedback on the newest addition to the TNG lineup. Send thoughts to info@truenorthgranola.com.
Coco GF Granola is Back!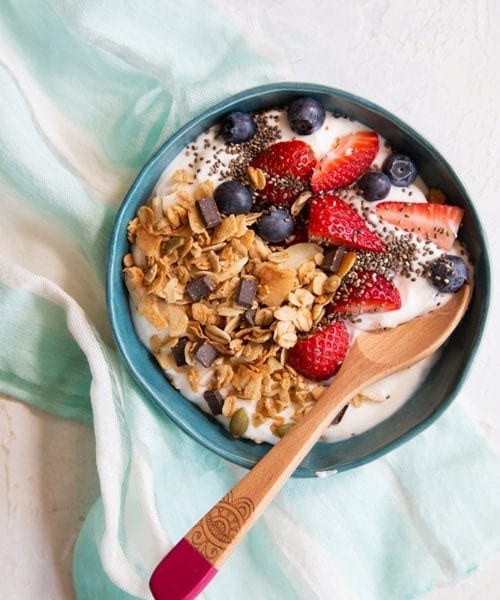 Just in time for warmer days, we've brought back an old favorite, Coconut GF Granola, on a temporary basis. Certified gluten-free oats are tossed with extra virgin coconut oil, coconut chips, shredded coconut, coconut extract, slivered almonds and Belgian dark chocolate chunks. Feel like you are on Island Time when you indulge in this granola. And, since it's non-GMO, you can enjoy the coconut-packed goodness guilt free. Currently, Coconut GF is available in 3 and 5 lb. bulk bags. Don't miss out on this extremely popular customer favorite; get it now while it's available!
A Tasty Recipe: True North Granola Bars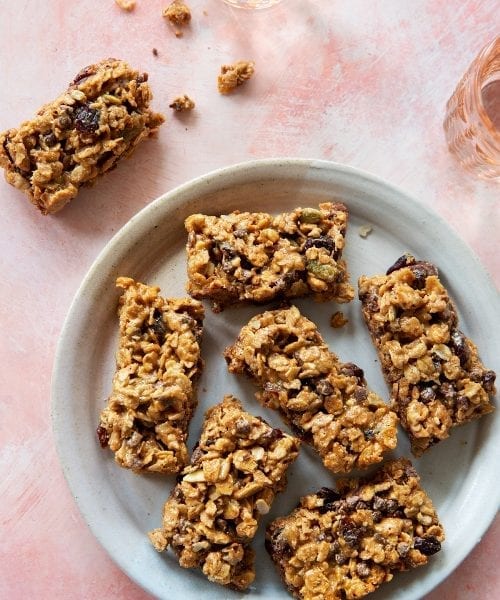 Looking for an excellent way to incorporate Coconut GF into a recipe? Try these granola bars that are the perfect pick-me-up for whatever your days have in store. The recipe is courtesy of TNG's Co-Founder, Ingrid.
TRUE NORTH GRANOLA BARS
Ingredients
– 1 egg white or 1 T. egg white powder
– 2/3 cup peanut or almond butter (crunchy or smooth)
– Scant 1/2 cup honey
– 12 oz. (3 cups) of True North Maple Vanilla Granola (Original or GF) or Coconut GF Granola (or the TNG flavor of your choice!)
– 1/4 cup whole wheat flour
– 1/2 cup chocolate mini chips
– ½ cup dried cranberries
Steps
1. Preheat oven to 325 degrees F.
2. Beat together egg white, honey and nut butter until mixed well.
3. Mix dry ingredients (granola, whole wheat flour, dried cranberries and chocolate chips) together. Add nut butter mixture and mix well.
4. Press flat in 9 x 13-inch pan. Bake at 325 degrees for about 25 minutes; cut when still slightly warm.
5. Enjoy these bars however you choose: on their own, topped with additional nut butter or Nutty No Grainer, crumbled over ice cream or milk, drizzled with melted chocolate for a special treat, or any way you wish.
Note: The measurements above make about 1.67 lbs. of granola bar mixture; cut into 20 bars which measure about 1.5 x 3 inches or 1.6 ounces each bar.
We're so thrilled to be bringing back one of our all-time favorite products this month, plus introducing a new one. Hope you're just as excited as we are.
Get the Scoop on the March 2021 Promo
To mark Coconut GF reappearing, as well as the new variety of muesli being introduced, we invite you to save 5% off all Coconut units (12 oz., 3 lb., and 5 lb), in addition to all of the muesli offerings (GF and conventional) this month. Enter 'mar21' at the checkout to take advantage. Hurry, this promo runs from March 4-March 11, so take advantage!