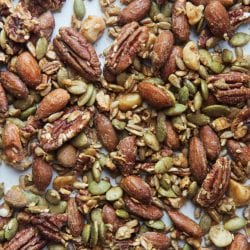 Nutty No Grainer With Multiple Uses
Three varieties of Nutty No Grainer have multiple and versatile uses
Ingredients
Any Nutty No Grainer Variety from True North Granola

This is a versatile product; use your imagination
Instructions
Choose your meal and choose your Nutty flavor to enhance it
Notes
True North Granola's line of paleo and keto products, Nutty No Grainer, is a healthy and versatile food product.  All flavors make a fantastic snack, and can be used to enhance a variety of meals, too.
Add Nutty No Grainer Original or Nutty No Grainer Cranberry to your morning oatmeal, or True North's Oats So Good Muesli.
Add Nutty No Grainer Mediterranean to salads, pasta dishes, scrambled eggs, cottage cheese or a dish of your imagination for a savory and nutty enhancement. 
Add any variety of Nutty No Grainer to yogurt or to an hors d'oeuvre or snack tray to enhance cheese or nuts.