By Kate Springer
Are you curious to learn about True North Granola's grain-free and gluten-free granola products? If so, check out the second part of my healthy granola taste test. Since I am a new True North Granola eater, the comments below are my initial thoughts of the granola snack packs.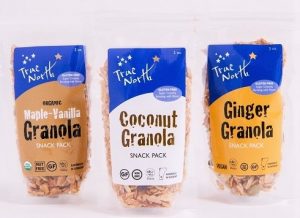 Maple flavor coats seeds and nuts in an addictive salty and sweet blend.
Vanilla-maple is a classic combination, but a good combination. It tastes similar to granolas I have had in the past, but that did not stop me from eating multiple handfuls.
Ginger is a unique granola flavor, and there was something purifying about nibbling on this. I felt healthy and rejuvenated.
Flavors were subtle in this healthy granola, but it would be good for people who prefer less intense flavors. The cashews were a nice surprise.
Blueberries give this nut mix a pop of color and a big bite. Again, I wanted to put it on top of yogurt or a smoothie bowl.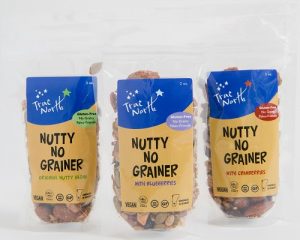 The Coconut Granola was less sweet than some of other healthy granolas, but is still an interesting combination.
This granola snack pack would not be out of place on the Thanksgiving dinner table. Its mix of nuts and berries is perfectly balanced.
My favorite products from this round were the Nutty No Grainer Original Nutty Blend, the Organic Maple-Vanilla Granola, and the Ginger Granola.
The 2 oz. size of the granola snack packs made it easy to try True North Granola's abundant product selection. It was simple to try a couple bites of each variety and then reseal the bags for another time.
Want to taste the healthy granola yourself? Buy the six-cluster granola snack packs and get in on the action.