By Kate Springer
Despite having grown up in Vermont, I had never had True North Granola until recently. I tried 14 different types of healthy granola in the convenient snack pack size. Whether you are a longtime consumer of True North Granola's products, or a new one like me, get a refresher on our flavors by reading my initial thoughts below.
This blend of flavors is joined together by some savory seeds. The maple comes through just enough to complement the vanilla.
With apple and cinnamon flavors, I felt like I could be in an apple orchard biting into fresh fruit or eating apple crisp or pie filling.
A taste of the tropics comes to Vermont. The combination of granola, coconut, almonds and chocolate in this healthy granola bears some resemblance to a cookie.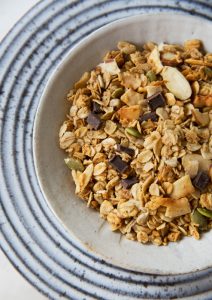 Eating a cluster of this granola is similar to taking a bite out of summer. I almost got some blueberry yogurt to have with it.
This is a very savory, almost salty option, and can be a snack on the trail or in the office.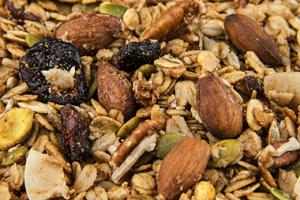 Is it fall yet? I could eat this granola snack pack while sipping apple cider.
The intense dark chocolate flavor of this granola would go well atop sliced strawberries and bananas.
Overall, I like True North Granola for its sweet taste and satisfying crunch. I have yet to choose a favorite, but the Apple Cinnamon Granola stood out in this round of tasting.
Whether you prefer more sweet or savory granola cereals, True North Granola offers numerous varieties from which to choose. The lack of sweetness in the products sets them apart from other granolas on the market. Since sweeteners are not overpowering the granola's taste, all of the flavors within each type of granola have the chance to come through.
Get some granola snack packs and have your own healthy granola tastings!
For a breakdown of True North Granola's gluten-free and grain-free offerings, check out the second part of my taste test.