By Kate Springer
You have probably seen the colorful bowls all over your social media feeds and on café and juice bar menus. Google Search Trends shows that searches for "smoothie bowl" have more than tripled in the last 5 years, and searches for "açaí bowl" have increased fivefold in the last five years.
Smoothie and açaí bowls with granola may be trendy right now, but their appeal has the potential to last beyond being an Instagram sensation. They are relatively easy to make, and can be a healthy breakfast or snack.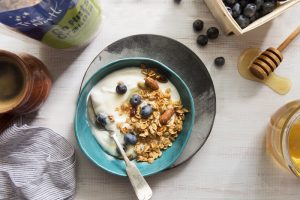 The Health Benefits of Smoothie and Açaí Bowls
Smoothie and açaí bowls are filled with nutrients, keeping you fueled and energized for wherever the day takes you. Superfoods, nutrient-dense foods which improve your health and help fend off diseases, are abundant in them. Ingredients that have high protein and fiber contents are commonly added as well. The purple and red tinted açaí berry, of açaí bowl fame, for example, is high in antioxidants. Coming from the açaí palm tree of Central and South America, these berries, and smoothie bowls, have taken the U.S. by storm.
Although these bowls are generally very healthy, one also needs to take caution; often the bowls come in very large portion sizes and are full of sugar and calories, defeating the purpose of a healthy breakfast or snack. Like most foods, smoothie and açaí bowls  need to be eaten in moderation, and have little nutritional value if they are loaded with unhealthy toppings, such as cheap mass-produced granola packed with sugar. One way to eat better, and save money, is to blend up your own smoothie bowls.
For some ideas, read True North Granola's Smoothie Bowl Saturday series. Each week, we will provide you with a smoothie bowl recipe to test out, complete with a True North Granola topping suggestion.
Best Toppers for Smoothie and Açaí Bowls
No açaí or smoothie bowl is complete without granola, but here are some more suggestions of how to top off your bowl.
Tip: Make one smoothie mixture as a base, for example, an açaí blend, and then let eaters assemble their own bowls. Set out toppings for people to pick and choose. Kids can help by adding the toppings.
Fruit
Put sliced pieces of fruit, such as kiwi, strawberries, banana and blueberries, in about 1/3 of the bowl for even more flavor.
Sweetener
Drizzle honey or maple syrup on top of your smoothie and açaí bowls if you cannot get enough of the maple syrup flavor in True North Granola.
Nuts
Add Nutty No Grainer, your favorite granola, or your favorite nut, such as peanuts, pecans and hazelnuts.
Spreads
Put a spoonful of a spread, such as nut butter, into the bowl. Peanut butter, almond butter or chocolate-hazelnut spread works well.
Plain
You might choose to enjoy the smoothie base plain, and use granola as your only topping.
These bowls are customizable, so add whatever toppings you want. Eat up!