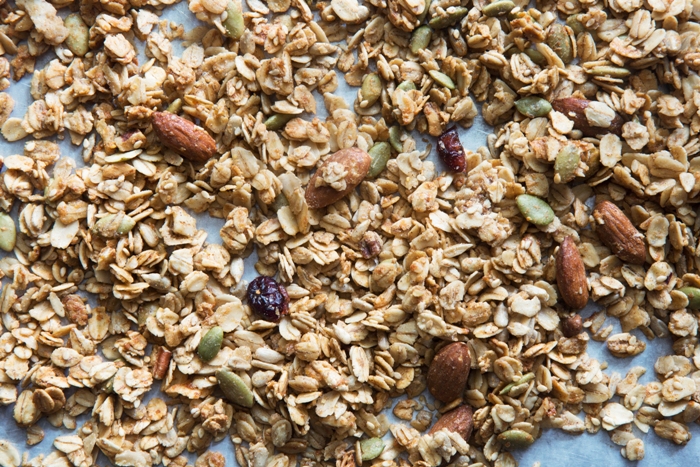 By Kate Springer
True North Granola sells tasty granola and snack mixes, but what is granola? Merriam-Webster's definition is "a mixture typically of rolled oats and various added ingredients (such as brown sugar, raisins, coconut, and nuts) that is eaten especially for breakfast or as a snack." This might seem like a simple explanation, but granola is so much more.
History of Granola
According to the article "Who Made That Granola?" in 1863, Dr. James Caleb Jackson crumbled graham flour and baked it, calling it Jackson's granula. Soon after, Dr. John Harvey Kellogg, of Kellogg's cereal fame, made a mixture called granula, comprised of oatmeal, wheat flour and cornmeal. After Jackson sued, the name of Kellogg's mixture was changed to granola. By 1899, he was selling about four tons of granola a month.
Granola fell off the map until the late 1960s, when Layton Gentry came up with the recipe for modern granola. After he sold the rights to his granola recipe, granola became a large business. Heartland Natural Cereal, the first mass-market granola, came out in 1972. Since then, the granola-making industry has gotten bigger and bigger.
Granola and Vermont
Vermont is known for granola, so much so that it has been described as the "crunchy granola" state. Vermont has long been a haven for healthy living and clean eating, so it's no surprise that granola is a mainstay in many Vermonter's diets. The large influx of hippies to the state in the '60s most likely also played a role in solidifying granola's place as a Vermont staple.
The Green Mountain State is also known for its environmental efforts, local eating movements and co-ops. Co-ops have been a staple in Vermont communities for years, known for their mission of supporting local farmers and producers, and providing healthy and organic foods with less packaging (think bulk foods). Their popularity has steadily increased since the 1930s, due to attitudes about the economy, politics and organic food movements.
The Granola Market Today
There are vast differences in granolas on the market. Some granolas are mass-produced, and contain many artificial, filler ingredients, such as corn puffs and high fructose corn syrup. These tend to lack health benefits and taste unnatural. To put some numbers on just how big the market is, a 52-week survey, which ended in January 2017, was conducted to find out the leading granola and granola bar brands in the United States. It found that Nature Valley accounted for 23.4% of sales, followed by Nature Valley Sweet & Salty Nut at 15.6%, followed by Quaker Chewy, which had 14.4%. These two companies have over half of the market share.
Other companies, however, produce hand-crafted granola. True North Granola is an example. Our products use natural and organic high-quality ingredients, and include whole grain oats, seeds, nuts and dried fruits, as well as other tasty mix-ins. The primary added sweetener is a minimal amount of Vermont maple syrup. As a specialty granola company, we fill a niche market for flavorful homemade granola and offer a variety of options, such as:
True North Granola's Role
We are proud to carry on Vermont's granola tradition of producing some of the best granolas in the world, while working with local co-ops to provide products in bulk. Each batch is lovingly made in Brattleboro, Vermont, assembled by hand and baked to a crunchy perfection. No mass-produced granola here! Unlike other companies, we currently offer 12 varieties of granola, in flavors such as chocolate granola and ginger granola. In addition, we offer low carb granola, low sugar granola and grain free granola options to accommodate a range of dietary needs. Our customers tell us, over and over, that "This is the best granola I've ever had."
Granola's definition has changed over time, but it remains a popular, delicious food. Try True North Granola and see for yourself.