By Kate Springer
This month, we're highlighting two of our customer-favorite products: Nutty No Grainer Mediterranean and Go Nuts Granola. We may be biased, but we get more excited thinking about these than the thought of finding gold at the end of the rainbow. They're tasty, packed with nutrition and sure to put a jig in your step! Read on for more about them, as well as their nutritional benefits.
Some Background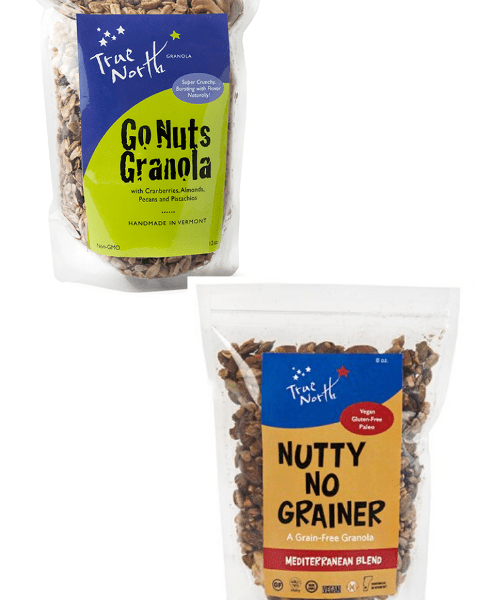 Go Nuts was the first product we developed nearly 13 years ago, and, to this date, it remains our best-selling product. Loaded with pistachios, almonds, pecans and dried cranberries, it's a classic for a reason.
Big News: We're switching the sugar used in Go Nuts by omitting the use of brown sugar and substituting it with turbinado sugar, an unprocessed cane sugar with the natural inclusion of molasses. By using a sweetener that's less processed, we're taking another step to make our products as natural as possible.
Nutty No Grainer Mediterranean is a more recent addition to our product lineup, but has fast become a favorite. This savory snack mix is our second item with no added sugar, and it's delicious as a snack or as an enhancement to any dish you can dream up. Loaded with nuts and baked with olive oil and an exotic spice blend, this mix with satisfy your need for a savory, crunchy and healthy snack.
What are the Nutritional Benefits of Cranberries?
Go Nuts is loaded with dried cranberries, which are infused with apple juice and sunflower oil, only—no refined sugar. The benefits of cranberries are numerous:
Many see cranberries as a superfood, thanks to their high antioxidant and nutrient content
Research has found links between cranberries and cancer prevention, decreased blood pressure, improved immune system function and oral health.
They contain good ranges of vital B vitamins, as well as vitamins C and E
The high fiber content in cranberries helps people from developing conditions such as stroke and heart disease.
What are the Nutritional Benefits of Nuts and Seeds?
The health benefits of nuts and seeds, of which there are many in both highlighted varieties, are huge.
Nuts about Nuts
When consumed in moderation, nuts benefit a healthy diet. Almonds, pecans, pistachios and macadamia nuts are what you'll find in Nutty No Grainer Mediterranean and Go Nuts.
Nuts are:
Packed with healthy unsaturated fats
Pecans have tons of antioxidants, fiber, vitamins and minerals, such as iron and calcium.
High in vitamin E, calcium and monosaturated fat, almonds pack big flavor into a small nut.
Looking to improve your eye health? Look no further than pistachios, which contain lutein and zeaxanthin.
Macadamia nuts have plenty of nutrients and antioxidants.
To learn more about the nuts in our other products, check out this guide.
Singing the Praises of Seeds
Seeds also pack a punch of nutrition. Wondering which seeds you'll find in Nutty No Grainer Mediterranean and Go Nuts? The answer is pumpkin, sesame, sunflower and flax seeds.
They're:
Rich in healthy fats, fiber and protein
Pumpkin seeds contain protein, magenesium, zinc and phytosterols, which reduce cholesterol.
Flaxseeds are heart-healthy, as they contain omega-3 fatty acids
Sesame seeds have a lot of minerals, and more phytosterols than any other seed
Disease-fighting antioxidants and vitamin E are abundant in sunflower seeds
Get Lucky this Month: March Sale!
If you're looking for a deal on these unique flavors this month, it's your lucky day — take 15% off both 12 oz. and bulk bags of Nutty No Grainer Mediterranean and Go Nuts. Simply enter the code 'March20' to save!
Can't get enough of these flavors and want to get them on a more regular basis? Check out our Subscription Program, which makes it easy to enjoy your favorite TNG products. Also, any of our granolas make a great snack right out of the bag, and our 2 oz. grab n' go packets make this snacking even easier. These snack packs come in all flavors and mixed flavors, too.
We're happy to spread good luck around, and are lucky to have such wonderful customers. Thanks to all, and have a great March!