By Kate Springer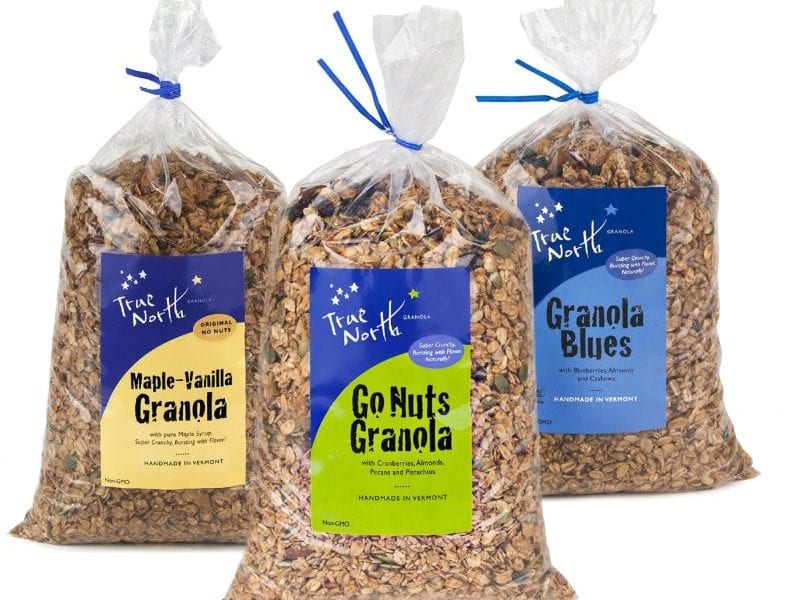 Healthy, delicious, and high quality Vermont-made granola makes the perfect work snack — in the traditional break room or in home offices across the country. In the case of schools, cafés, and hotels, it also makes a great menu addition. We offer much more than the typical sugar-laden granola breakfast cereal, found at supermarkets or big-box stores: our product line features gluten-free granola, keto granola, vanilla granola and more, including muesli, Nutty No Grainers, and the flavors granola fans crave. In fact, many of our customers say that it's the best granola they've ever had.
Learn more about what True North Granola can offer your business below.
What does True North Granola Offer for Businesses?
Ready to stock the break room with treats or looking for items to meet some changing needs? We've got you covered! We can help you feed your employees to fuel their bodies and minds for busy work days. Better yet, for those who work remotely, our team can help you send care packages, gift items, amenity bags or boxes big and small, or gift items.
Check out our products for businesses. We sell Breakfast Bundles (perfect for early morning team check-ins), muesli, snack pack sizes of most products (great for snacking), and bulk bags of granola, from 3 and 5 lb. family-size bags up to 25 lb. bags (ideal for serious granola lovers). See our specialty gift items, too. A gift box or bag may be perfect for upcoming virtual team appreciation events or holiday gifts. We are flexible and aim to meet your needs, whether you need something for employees or clients.
Please call us for pricing details at 802-254-5806.
Wholesale Granola
In addition to products aimed at businesses, we also offer wholesale granola, which is a key component of True North Granola's business.
We distribute our full range of granolas throughout the U.S. Our customers include corporate cafeterias, ski resorts, food co-ops, specialty food stores, farm stands, school districts, universities, hospitals, retirement facilities, restaurants, juice and açaí bowl cafés, and more.
Our granola is always a great addition to any location, and we often hear that our granola becomes sought after by employees, customers, students, hotel guests, and others who happen upon our products. Our granola has consistently been the top-seller at many co-ops throughout New England.
Residents of retirement homes become upset when True North Granola runs out, telling their nutritional staff, "We want the good stuff!"
We pride ourselves on our responsive communication and customer service, and, as a result, we've been lucky that many of our wholesale accounts have been customers of True North Granola for 10 years or more.
"We are a small café. Several years ago, before we opened, we tried numerous types of granola. Once we came upon True North we were absolutely thrilled. The granola was everything we had hoped for. It was great! Our customers love the granola and we also offer some of the gluten free options. True North has been wonderful, their products are top notch, the customer service is personal and very responsive, and, last but not and least, they consistently ship very quickly."

– Leslie W., LellyBelle Café
The Scoop on Our Wholesale Options
We distribute our wholesale granola in cases of 3 packaged unit sizes: 2 oz. grab-and-go snack packs, 8 oz. or 12 oz. bags, as well as bulk bags that range from 10 and 20 lb. cases. All flavors are sold in these varied unit sizes, including classic regular, gluten-free, and grain-free granola, as well as in our oatmeal/muesli product, Oats So Good, plus our unique cookie mix.
Please note that our granola has a 5-month shelf life. All flavors are non-GMO, while several are USDA-certified organic. Our products are known and celebrated for being low in sugar and carbohydrates, while maintaining their crunch and freshness, as well as having no added preservatives or chemicals.
I'm sold. How do I learn more?
If you think True North Granola is right for your business, office, school, café, co-op, or senior living facility, contact us about our wholesale options at info@truenorthgranola.com, 802-254-9200, or https://truenorthgranola.com/wholesale/. We'll provide you with pricing information and samples. In the meantime, be sure to read our story to learn more about our company's history. We look forward to serving you!