Apricot Gluten Free Granola
$31.50 – $50.00
Dried Apricots, Cashews and Macadamia Nuts
Our Apricot Granola was our first gluten-free product. It includes certified gluten-free rolled oats and features dried organic Turkish apricots, cashews, macadamia nuts, and pure Vermont maple syrup supplied by Hidden Springs Maple in Putney, VT. Our apricots do not contain sulfur which is why they dry in their natural form. This is gluten-free and vegan granola.
ALL INGREDIENTS ARE NON-GMO
Description
Gluten Free, Vegan, Non-GMO, Kosher, Peanut Free, Soy Free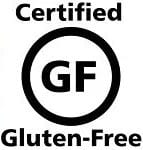 Ingredients
Certified Gluten Free rolled oats, raw unsalted organic pepita seeds, raw hulled sunflower seeds, unsalted macadamia nuts, raw cashew pieces, organic unsweetened coconut chips, organic unsulphured apricots, golden flax seeds, light brown sugar, unhulled natural sesame seeds, pure Vermont maple syrup, non-GMO expeller-pressed canola or organic sunflower oil, cinnamon, sea salt, cloves, pure vanilla extract.