Trying to decide which flavor is right for you? Here's a quick rundown of our 9 varieties to help you decide.
Click here to see the full list of granola varieties and to place an order
If you're looking for a not-too-sweet granola, our Maple Vanilla Granola might be the right choice for you. It's our simplest granola, containing no wheat, no nuts, and no dried fruit, and is a bit less sweet and lower in fat than our other granolas. If you are on a gluten-free diet, our Gluten-Free Maple Vanilla Granola also has no nuts, is less sweet, but is made with certified gluten-free oats.
Our Apricot Granola and our Ginger Granola are also gluten-free, and even many of our customers who are not on a gluten-free diet really enjoy these flavors. The Apricot Granola includes dried (unsulphured) apricots with no sugar added, macadamia nuts and cashews, and the Ginger Granola includes crystallized ginger, dried (unsulphured) pineapple, and almonds.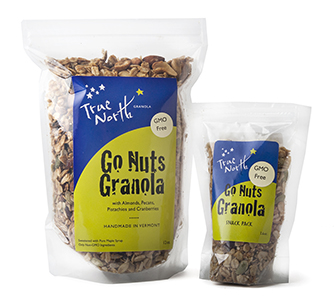 Our most popular granola is our Go Nuts Granola. This is the first recipe that Ingrid developed and tested out for True North at the Brattleboro Area Farmers' Market. Loaded with pistachios, almonds, pecans – all of which are unsalted and free of preservatives – as well as dried cranberries, and, of course, pure Vermont Maple Syrup.
Speaking of dried cranberries, you should really try the new special blend of our Chocolate Granola. Not too sweet, this new blend replaces banana chips with dried cranberries (infused only with apple juice and sunflower oil). We rolled out this new blend as a Valentine's Day promotion, but we got such great feedback from our customers that we may end up making a permanent change to our Chocolate Granola recipe! Apparently Chocolate Granola and dried cranberries are a great pair!
Rounding out our best-seller list is our Granola Blues. This granola includes a wonderful pairing of whole, natural, unsalted cashews and dried blueberries with no sugar or preservatives added. Its delicious with a bowl of plain low-fat yogurt, especially if you can find some of that amazing Green Mountain Creamery yogurt.
Finishing up the list are two of our specialty, artisan flavors- Pumpkin Granola and Apple Cinnamon. Our Pumpkin Granola – made with whole pecans, raisins, and pumpkin pie spices – is a big hit at the farmers market, especially when the leaves start to change in the fall here in Vermont. Our Apple Cinnamon Granola is made with pomegranate molasses, dried apples, whole pecans, and whole almonds.