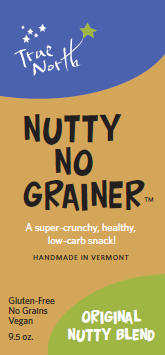 A grainfree, glutenfree, and vegan snack, Nutty No Grainer is a No Brainer! It will awaken your senses before you have time to take your second bite. Our special blend of maple-baked nuts and seeds, coconut oil, and spices will satisfy your need for a sweet and savory, crunchy and healthy snack – without added grains. You can eat this mouthwatering delight out of the bag, on your cereal, on yogurt, or any way your heart desires!
Sign up for our e-newsletter to get instant notification once the product is available as well as a coupon code.
We will have three varieties available, including the Original Nutty Blend, Cranberry, and Apricot & Cashew.
Congratulations to Chris M. from Brattleboro, VT for winning the product naming contest we held at our open house last December. Nutty No Grainer was the clear favorite!