Well folks, the leaves have turned their brilliant colors and the holidays are well on their way. To really get into the spirit and celebrate the season, we wanted to remind you of our Harvest Sale ending November 15th! That's right, for only TWO more weeks you can recieve 10% off 
Pumpkin
and
ChocoGranola
12 oz. bags and bulk bags of 3, 5 or 10 lbs. by punching in the code "Harvest" upon checkout. If that's not enough incentive to dive into some festive granola, we also have $5 flat rate shipping on all orders!
Our handmade Chocolate Granola is not too sweet and includes organic Dutch cocoa powder, cinnamon, dried cranberries, sunflower seeds, and pure Vermont maple syrup. Our Pumpkin Granola is a healthy, crunchy granola with Pumpkin pie spices, pecans, and golden raisins.
Did you know? Pumpkin pie spices and cinnamon are among the top ten healthiest spices? Or that maple syrup has antibiotic properties? Read more here and check out this link to learn more about these medicinal benefits!
---
Interested in freshly-baked, gourmet granola delivered monthly, bi-monthly, or quarterly for 10-15% off regular retail prices?
​Choose your flavors and your delivery plan and we will send the gift of wholesome granola at the beginning of each order period
You only order once — we do the rest of the work! True North ships monthly, bi-monthly, and quarterly–whichever works best for you
Be the first to sample new products!
---
Recent Testimonials from our Wonderful Customers:
I have been coming up to Brattleboro to hang out with my high school buddy, Greg, 3 or 4 times a year. When the farmer's market is open, I always grab a bag of granola but it is typically gone within a week. I was there a couple of weeks ago and Ingrid mentioned that you will ship it. As I watched my bag dwindle, and the panic started to set in, I placed an order for a 3 lb bag of your gluten free cherry vanilla pecan granola. It arrived today and I am so stoked!

Just wanted to pass on my gratitude for your brilliant combination of ingredients and creating this granola for the gluten challenged like myself. By far the best gluten free granola on the planet.  Brilliant! I've tried many and there is no comparison.

While some will do the obvious and add it to their yogurt, I lean a little more toward the decadent side and prefer it with Ben and Jerry's vanilla ice cream. Killer! I' m eating it right now! This weekend I plan to use it as a gluten free topping for my apple crisp. Should be amazing!

Keep on spreading the love.
Joe

West Granby, CT
 I very much appreciate your granola and your service! All the "healthy" brands I find in stores, including Whole Foods, don't come close…

David, NJ
---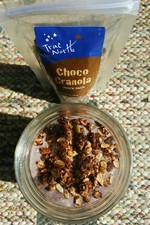 HAVE RECIPE IDEAS?
Please send them to us at info@truenorthgranola.com! We would love to hear from you
---
Thank you for your support and to our staff!
Despite the commerical world around us, True North Granola products are still handmade and freshly baked in small batches. Our ovens are turned on from 7:00am until 5:00pm each day, and sometimes on the weekends.
Our valuable and enormously dedicated staff—Abby, Agathe, Erin, Maddie, Grayson, Dylan, Emily, Peter, Heather, Katie, Franklin and Ingrid—work diligently to ensure consistent quality every day.
Ingrid, Franklin and The True North Team