What's the best way to celebrate the holiday season you ask? Yes, getting cosy next to a warm fire while enjoying more family time are all fantastic things to look forward to, but the darkening days are soon to be brightened by a few upcoming holiday shows! Mixing holiday shopping with a fun, family outing has never been easier.
If you missed our recent demos never fear—True North will be attending the 15th Annual Brookline Marketplace Craft Fair this Saturday, November 14th!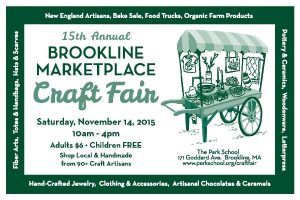 From 10:00 – 4:00p.m at The Park School in Brookline Massachusetts, you can visit our table and over 90 other vendors at this one of a kind show. Indulge in our fresh granola as well as the sell-out bake sale, and don't forget the raffle! Admission is only $6 dollars and all proceeds support PA academic enrichment and community service programs. This will be the 4th year we have attended this event, and we would love to see all of our fellow foodies come join us!
Can't make the it? No problem!
True North will also be attending the 17th Annual Cotton Mill Open Studios and Holiday Sale on Friday, Saturday and Sunday, December 4-6, 2015. At this event, artists and artisans will show and offer their work for purchase, and there will be musicians, bakers, performers, and craftspeople from the local Brattleboro community attending. This festive event includes "performances of music, dance, and circus acts; ceramics and fencing demonstrations; food and wine tastings; raffles and more". There really isn't a better way to spend a weekend than coming to support us, munching on delicious granola, and taking in all the amazing offerings of local vendors!
We are excited to see you there!