If you haven't heard the news–we are having a Holiday Sale here at True North! Currently, Go Nuts Granola, Nutty No Grainer, and our Granola Chocolate Chip Cookie Mix are 10% off when you enter the code "december15" upon check out. What do these three tasty treats have in common you ask? (besides being delicious, of course). They contain Nuts!
Nuts are nutrient packed fruits containing protein, fiber and essential fats. A golf ball-sized portion of nuts makes a vitality-boosting snack and contributes a mix of  vitamins and minerals. For example, almonds are calcium-rich and high in vitamin E, a nutrient which helps to improve the condition your skin. Heart-friendly pecans are packed with plant sterols, valuable compounds that are effective at lowering cholesterol levels. Because they are so concentrated in nutrients, nuts will keep you feeling fuller for longer!
Here's a simple, nutritious and tasty recipe where you can incorporate either Go Nuts Granola or Nutty No Grainer: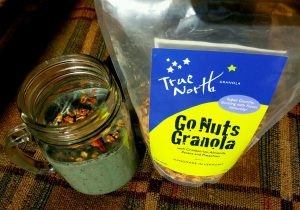 Spinach and Hemp Berry Smoothie:
1 cup spinach
2 tbsp hemp hearts
1 tbsp chia seeds (optional)
1 cup Coconut Milk
1/2 cup mix frozen berries
1/4 cup True North Granola
Directions: layer ingredients in the blender liquids first, spinach second, hemp and chia seeds third, and the berries last. Once the ingredients are blended (20 seconds), sprinkle the granola on top of the smoothie for added crunch, taste, and nutrition.
Getting a hankering for nuts or for the smell of chocolate chip cookies wafting from the kitchen? Take advantage of our holiday sale now before it's over on December 18th as well as our $5 flat rate shipping! Your taste buds and will thank you.