By Kate Springer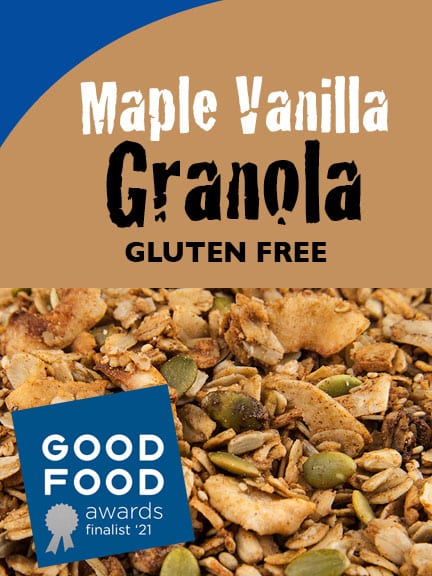 November 2020 – Brattleboro, Vermont –There's no doubt that this year has had its ups and downs, but, as a company, one glimmer of hope was our acceptance into the Good Food Guild, a prestigious organization in the national foods realm. The Good Food Guild, part of the Good Food Foundation, unites specialty producers who create for the greater good, by doing what's right rather than what's simple. Becoming a part of the organization helped solidify our goals, while also opening up doors to join in the conversation with makers across the country.
TNG and the Good Food Awards
Earlier this summer, we decided to take our involvement a step further. Our Co-Founder, Ingrid, submitted three of our products to the Good Food Awards, an annual event that celebrates tasty, authentic, responsible food. We're pleased to announce that we were named a Finalist in the Snacks category for our Organic Maple Vanilla Gluten-Free Granola — pretty good since this was our first year entering!
We know our fans love this granola, and it sounds like the judging panel did, too. The tasty, crunchy blend is so satisfying that it's easy to forget it doesn't have gluten. Feedback from the tasters on the panel was overwhelmingly positive. Various tasters commented that "the flavor and texture are really nice," that it's a "nice, flaky and flavorful granola, "perfectly sweet and balanced" and "really delicious!" We'd have to agree, since this flavor is a classic for a reason.
While we didn't ultimately win an award, we wanted to congratulate all of the other Finalists and eventually Winners (to be announced in January), as well as thank the judging panel for trying our products, and the Good Food Guild for offering the Awards program. We plan to submit products for consideration next year.
We're proud to be acknowledged, and for the fact that this puts Vermont on the map. We're a small state, but mighty when it comes to specialty products! Read on to learn more facts about the 2021 Good Food Award competition, as well as how we're celebrating this milestone.
Good Food Award Facts
2020 was the 8th year of the Good Food Awards
There were 1,928 product entries in all
Finalists and Winners were selected from 5 regions of the country: North, South, West East, and Central
There were 16 categories for products (we were in the Snacks category)
The top 5 scorers in each category from each region become Finalists (that includes us!)
In all, 338 Finalists were named across the country; 22 are based in Vermont
The Vermont-based Finalists won in the following categories: Cheese, Ciders, Elixirs, Preserves, Grains, Pantry, Snacks, Spirits, Charcuterie, Coffee, Confections, Pickles, and Honey
9 (us included) are members of the VSFA
How are we celebrating the big news?
To mark our Organic Maple Vanilla Gluten-Free Granola's new Finalist distinction, we're putting it, along with Maple Vanilla Original Granola, on sale for December. You can take 10% off any size Maple product during a time frame that will be announced in the coming days. The next time you buy Organic Maple Vanilla Gluten-Free Granola, or from any of the other Good Food Award Finalists, remember that it's a delicious way combine action and intention when it comes to eating more sustainably.
Need a serving suggestion? Try pairing either variety with our Just Fruit! options for a flavorful breakfast, snack, or treat.
As always, thanks to all of you for your kind words and support. We couldn't do it without you.