By Kate Springer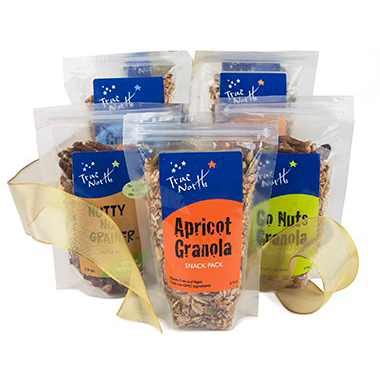 It's June, which means one thing, and one thing only—summer wedding season is here. Chances are you're getting ready for your big day or know someone who is. While weddings are exciting lifetime milestones, a lot goes into the planning: from securing the date and venue to the little things, like decisions on napkin rings and thank you notes.
As many weddings include favors, a little something for guests to take away and enjoy from a hectic, joyous day, we want to help you take some of the pressure off when it comes to getting everything ready by offering granola wedding favors. These 1 oz. packets of goodness are sure to delight all of your guests.
How do these favors make any wedding special? Read on to discover some of the reasons!
Reasons Why Our Granola is perfect for Weddings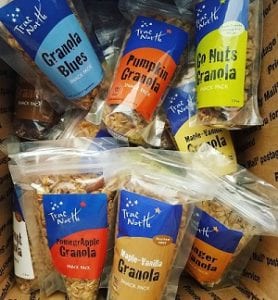 1. A Taste of Vermont
We love how our products give granola lovers a true taste of Vermont, from the love of our bakers to the pure Vermont maple syrup that's used in our products. Regardless of whether you're helping plan a wedding held in the Green Mountain State, or the couple has ties to the state, but plans on marrying elsewhere, our granola wedding favors are the right fit for rustic or city center affairs alike.
2. Unique and Personalized
What could be more unique and special than a wedding gift from TNG? We're able to fill orders from 25-300, and you can select one flavor or a variety. Purchase them separately, by the piece, or packaged in simply elegant, sheer gauze bags, in one or two units per bag (we recommend the bags!). Is the couple into snack mixes? Look at our Nutty No Grainers! More of a traditional pair? Our original, Go Nuts Granola, may be the right pick. If you aren't sure, ask us! We'd be happy to guide you in the right direction for your wedding.
3. Useful and Practical
Who doesn't like a gift they can use? The small size of our granola wedding favors makes them ideal to take on any upcoming adventures or enjoy on the trip home.
4. It's the Little Things that Count
From the classy bags to the thoughtful touch we put into every order, the True North Granola difference shines through in comparison to other Vermont wedding favors. We put care and intention in every customer interaction, and make sure things are to our loyal customers' liking. We offer options to suit a variety of dietary needs, too, so if many guests note those on their RSVPS, we can work in partnership with you to make sure they're in good hands.
What are Vermont's Policies for Summer Weddings in 2021?
As we all know, this time has been an unpredictable one, but here in the Green Mountain State, things are looking up. On April 6, the State introduced the Vermont Forward Plan towards a phased reopening. Please visit this page to learn more about the latest information re: events and gatherings. Here's some key information that may be helpful:
As of May 14, 2021:
Indoor weddings/celebrations: 1 unvaccinated person per 50 sq ft up to 300 people + any number of vaccinated people
Outdoor weddings/celebrations: 900 people + any number of vaccinated people
Masks and social distancing with non-household members required for non-vaccinated people
As of July 4, 2021:
No gathering size restrictions
Masks and social distancing encouraged
Source: Vermont Weddings

We recommend consulting state guidance throughout the planning process to make the best decision for all involved. Even if you decide to move a large celebration to another year, regardless of whether it will be held in Vermont or elsewhere, guests still appreciate granola wedding favors with save-the-dates or invites!
How Do You Order Granola Wedding Favors?
To order our granola wedding favors, please email your request to info@truenorthgranola.com. As an alternative, you can also call (802) 254-9200. We can provide you with pricing details then. More information, however, can be found on our website.
As June kicks off a season of weddings, we recommend getting in touch with us as soon as this option is of interest to you. We want to be sure everything is set in time!
Our granola snack packs have helped numerous others make their special event even more personal, so why not choose us to help make yours extra special?
Congrats on the upcoming big day. We're thrilled and honored at the idea of being a part of your wedding festivities.
Get Wedding Ready this Month with our Granola Wedding Favors!
This month, don't forget to keep us in mind when you're getting wedding ready with our granola wedding favors. Remember to please email info@truenorthgranola.com or call (802) 254-9200 to request an order; don't try to order them on the website. We'll walk you through the process, as well as provide pricing estimates and more details.
Happy summer wedding season; get ready to celebrate, perhaps with a touch of Vermont!