By Kate Springer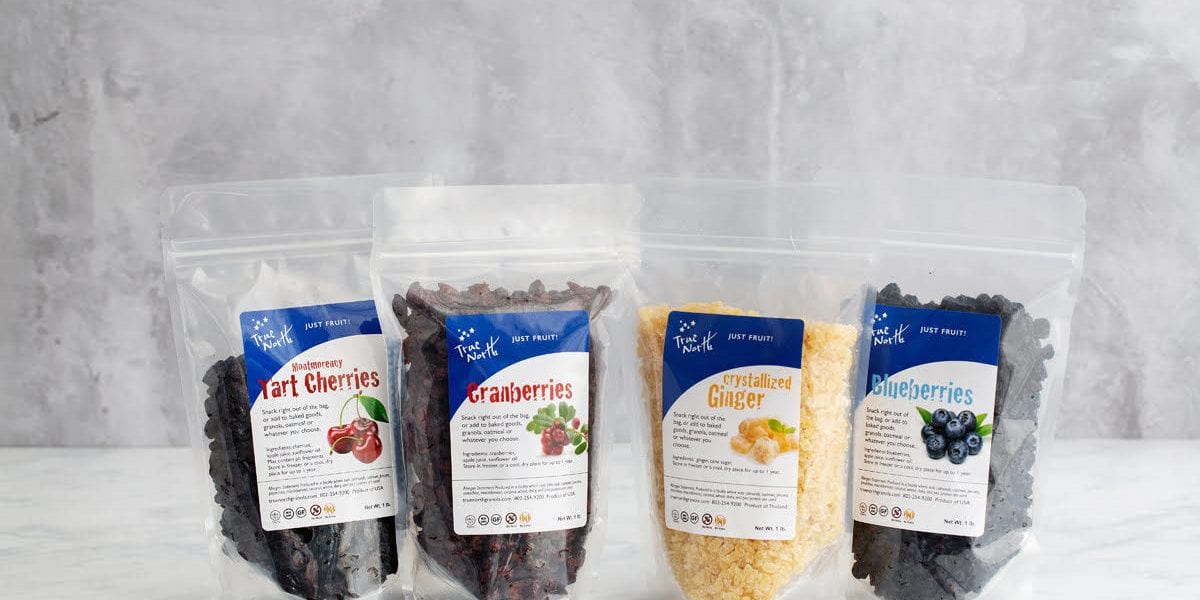 As you know by now, we're currently only selling limited products due to COVID-19. Although we can't wait for our operations to return to some semblance of normal, we've all had to adjust to the current health crisis. We know you're probably missing your favorite granolas and Nutty No Grainers, so we're thrilled to launch our newest line of products, called Just Fruit!.
This will help you return to enjoying some of your favorites, which aren't readily available at the moment, by adding some fruits to your purchase options. Read on for the scoop.
What is the Just Fruit! Product Line?
The Just Fruit! product line features four offerings: Crystallized Ginger, Dried Blueberries, Dried Cherries and Dried Cranberries, plus a Variety Pack. These are the same fruits that are mixed in with some of your favorite granola varieties (like Cherry Vanilla, Ginger and NNG Cranberry). If you're missing a favorite granola, why not try adding in one of these fruits to Maple Vanilla Granola (regular or GF!), Nutty No Grainer Original, or another of your choice? Ranging from $10 to $35, these are a deal you won't want to miss. They're available individually in packs of two 1 lb. bags, or as four 1 lb. bags, one of each flavor. Whatever you crave, there's something for you!
What are Just Fruit!'s Nutritional Benefits?
The nutritional benefits in the Crystallized Ginger, Dried Blueberries, Dried Cherries, Dried Cranberries and the Variety Pack are numerous:
These are healthy dried fruits. They're each non-GMO, and only the Crystallized Ginger contains sugar.
All three of the berries–blueberries, cherries and cranberries–are infused with a mixture of apple juice and sunflower oil. The juice allows the natural flavor of the berry to emerge. The combination of juice and oil keep these fruits moist. They won't turn to 'leather' in your granola and they'll continue to be delicious.
There's no sulfur or other additives in any of our fruits.
Good taste meets good nutrition in these. Try them and see for yourself!
Where can I find Just Fruit!?
Just Fruit! is available on the True North Granola website. Find it under the 'More Products' tab, and then select 'Just Fruit.'
Healthy. Delicious. Just fruit. These fruits are delicious as snacks on their own, or added to granola, baked goods, oatmeal or any other creation you can dream up. Each bag is good for one year.
Eying the Crystallized Ginger or the Dried Blueberries? Perhaps the Dried Cherries and the Dried Cranberries are more what you're into. Or, maybe you like the appeal of the Variety Pack. No matter which one you choose, what will you mix up? Send us a photo so we can see!
We hope you enjoy these new offerings as part of Just Fruit!. As usual, send us an email at info@truenorthgranola.com or a message on social media to let us know what you think.
Although we're psyched to be offering something new for our customers, we get that it's a difficult time. We hope our TNG community is holding up. Take care and be well, everyone, and thank you as always for your support of our company.