By Kate Springer
Photos and inspiration for this piece from Clare Barboza
The air is chillier, foliage is at its peak and darkness comes earlier every day. It must be time for Halloween, the spookiest day of the year. To celebrate, we are sharing some recipes that you can make with our "Halloween granola," Pumpkin, Choco and Maple-Vanilla Gluten-Free. Happy Halloween!
Baked Pears with Blue Cheese, Honey and Nutty No Grainer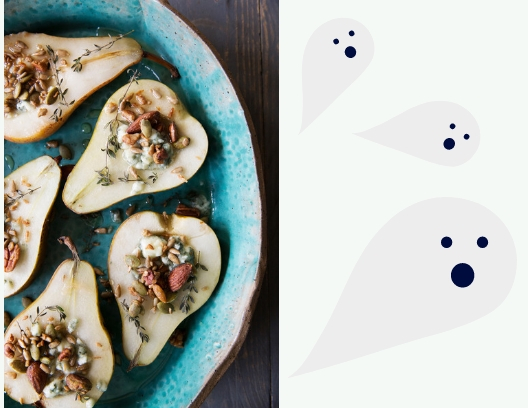 Warm up with this savory dish that can be enjoyed now, and into winter.
*Makes 6 servings
Ingredients
-3 ripe pears (make sure they are not too soft
-1 tablespoon of honey (or other sweetener), plus more to serve
-4 sprigs of thyme
-6 teaspoons of soft blue cheese (or cheese of choice)
To Garnish
-6 halves walnuts
-Salt and pepper
–Nutty No Grainer Original or Maple-Vanilla Gluten-Free Granola
Instructions
1. Preheat the oven to 390 °F.
2. Cut the pears in half. Scoop out the seeds. Place the open-faced halves in a baking dish. Top with a drizzle of honey.
3. Top with thyme. Bake the pears for about 10 minutes, or until the flesh is soft to the touch. Test this by piercing one half with a fork.
4. After letting the baked pears cool, place the cheese inside each half. Garnish with the walnuts, granola and rest of the honey. Add salt and pepper to season, if desired.
5. Serve warm or cold. Enjoy!
*Inspired by this
Zucchini Bread with Pumpkin Granola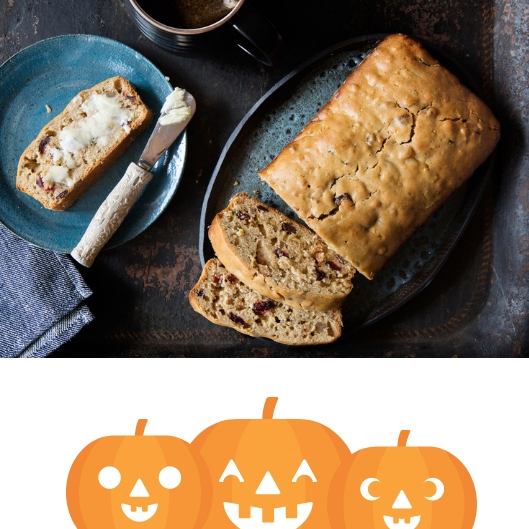 This bread is great for breakfast, lunch, dinner or snack. Thanks to the addition of granola, it has a unique crunch.
*Makes 2 loaves
Ingredients
-4 eggs
-2 cups of brown sugar
-1 cup of vegetable oil
-3 1⁄2 cups of flour
-3⁄4 teaspoon of baking powder
-1 teaspoon of cinnamon
-2 cups of grated zucchini
-1 cup dried cranberries or raisins
-1 teaspoon of vanilla extract
-1 cup of Pumpkin Granola
Instructions
1. Preheat oven to 350 °F. Grease loaf pans.
2. Combine the eggs, sugar and oil. Mix well. Add the dry ingredients. Then, fold in the zucchini, cranberries, and granola. Finally, add the vanilla.
3. Bake the bread for about 55 minutes.
4. Cool and slice.
*Adapted from this
Cupcakes Topped with Choco Granola
These cupcakes can also be topped with vanilla or cream cheese frosting, dyed orange or black for a Halloween touch.
*Makes 14 cupcakes
Ingredients for the cupcakes:
-1 and 1/3 cup of flour
-1 and 1/4 teaspoon of baking powder
-1/2 teaspoon of salt
-1/2 cup of unsalted butter, softened
-1 cup of granulated sugar
-2 eggs
-2 teaspoons of vanilla extract
-1/2 cup of full-fat sour cream
–Choco Granola, for topping
Instructions
1. Preheat the oven to 350 °F. Line muffin pans with 14 liners.
2. Whisk together the flour, baking powder and salt.
3. Mix together the butter and sugar until fluffy. Beat in eggs, one at a time, and then add the vanilla. Add in the sour cream. Mix until everything is combined.
4. Add in the dry ingredients, mixing until just combined.
5. Scoop the batter into the liners, filling them just over halfway.
6. Bake each batch of cupcakes for 18-22 minutes, until a toothpick comes out clean.
7. Remove the cakes from the liners and cool then cool them on a wire rack.
8. Frost them and top with a heavy sprinkle of Choco Granola. Yum!
*Inspired by this recipe
Ingredients for the chocolate frosting:
-2 ¾ cup of powdered sugar
-6 tablespoons of unsweetened cocoa powder
-6 tablespoons of butter
-5 tablespoons milk
-1 teaspoon vanilla extract
Instructions:
1. Mix together the powdered sugar and cocoa. Set the bowl aside.
2. Cream the butter until smooth, and then add the milk, vanilla and sugar mixture a bit at a time.
3. Beat until the frosting is light and fluffy.
4. Once the cupcakes are cool, frost each with a generous helping of frosting.
Did you make one of the recipes? Share your pictures, and your own recipe ideas featuring True North Granola, on Instagram, Facebook and Twitter.
No tricks, just treats! Take 10% off our "Halloween granola," Pumpkin, Choco and Maple-Vanilla GF, with code "October18" through 10/31. 12 oz. and bulk sizes (3, 5 and 10 lb. bags) are on sale.