The difference in these chocolate chip cookies is in the granola. You won't be disappointed. Your family and friends will believe these are truly homemade, every bit from scratch. That's not too far off!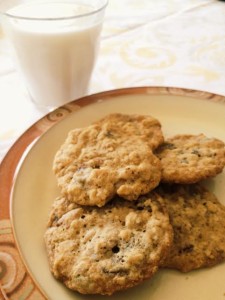 You will need:
DIRECTIONS
1.      Preheat oven to 350 degrees

2.      Beat butter until it becomes partially fluffy.  Add about one-quarter of the cookie mix (minus the chocolate morsels), and mix well. Don't stress if you add more or less cookie mix.
3.      Add in one egg and one teaspoon vanilla extract until well blended.
4.      Add remaining cookie mix, the chocolate morsels, and mix well by hand.
5.      Decide on the size of cookie you want: one rounded teaspoon of mix will make about 28-34 cookies; one rounded tablespoon will make about 24 cookies; drop onto greased or parchment-lined baking sheets.
6.      Bake for 11-14 minutes depending on the size and how well done you like your cookies.
7.      Cool in pans for about 1 minute, and then transfer to cookie racks to cool completely.
How to Store Cookies:
1.      If they last, store in an airtight container for about one week.
2.      If you'd prefer, you can freeze the baked cookies in an airtight container for up to six months.
Yield
24-34 cookies, 2" to 3" in diameter
Let us know what you think! Send us an email or post a picture on Facebook, Instagram, or Twitter!