Do you know someone getting married soon?  True North Granola Snack Packs could be the perfect unique, small, and affordable wedding favor for their friends and family!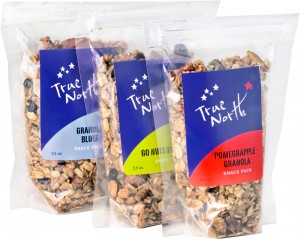 We have 8 flavors available in Snack Pack size:
Go Nuts Granola
Chocolate Granola
PomegrApple Granola
Granola Blues
Pumpkin Granola
Apricot
No Nuts Granola
Ginger Granola
The price per snack pack ranges from $2.00 to $2.50 per bag, depending on quantity ordered. For more information about ordering True North Granola snack packs for your wedding favor, please give us a call or send us an email!
info@truenorthgranola.com or 802-272-0798.