By Kate Springer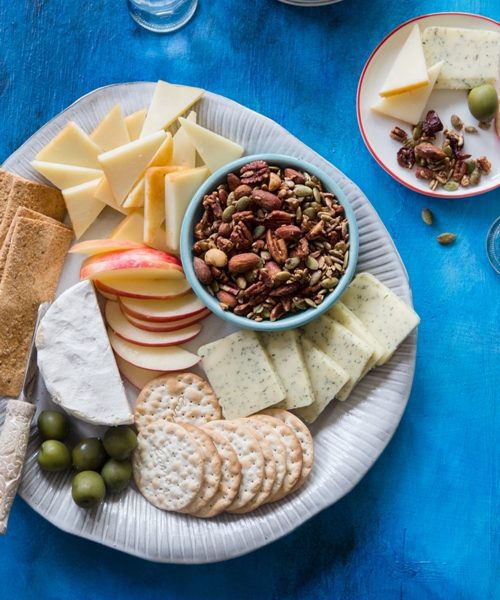 Somehow, just like that, we're knee-deep into the holiday season in Brattleboro. The snow is finally here and almost sticking, Downtown is decked out in all its festive glory and the countdown to New Years is on. Given the time of year, we're making a good guess that you're creating your holiday shopping list and checking it twice — maybe you have even started getting gifts or are almost done! Competing with your shopping, holiday gatherings and festive video calls are on the calendar. You want to catch up with family and friends, but it's another thing to add to your ever-growing to-do list. Well, worry not, because we're here to help you ace your holiday shopping and entertaining.
Step 1: Ace Your Seasonal Gatherings with Charcuterie Boards
One pandemic trend that we can get behind is the rise of the charcuterie board. They typically feature artisan goods on a wooden board, artfully arranged so snackers want to try at least one thing on it. While salami, meats and cheeses are popular, fruit, nuts, olives, pickles and crackers are also gaining traction. Although they have been around for years, some of the trend's rise, experts on the subject note, could be attributed to people wanting to get creative and do something fun during the pandemic. In fact, the charcuterie category is on the rise in grocery stores across the country!
Millennials, especially, have gotten in on the trend and have been posting their boards on social media, due to the European flair of charcuterie and the aesthetically pleasing nature of making and photographing boards. Regardless of which generation we're from, food and culture are at the forefront of our lives in very different ways than they've been in the past.
Make Your Charcuterie Board Stand Out with NNG Original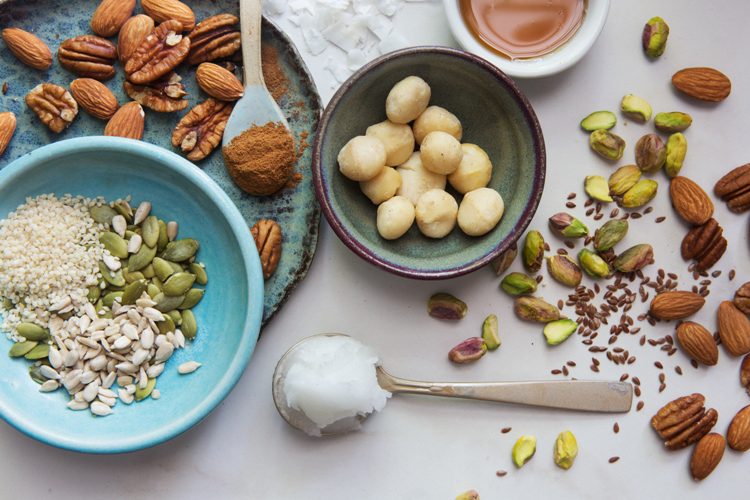 Want to make charcuterie boards that wow your roommates, guests and family members at every holiday gathering? Keep these simple tips in mind, and check out this list from Steele House Kitchen for more:
– Cut up everything (if applicable): Arrange the board by grouping similar things together: for instance, if you want to include cheese or cheeze, cut bars or pieces into smaller slices and stack one on top of the other. Depending on how much you want to put on your board, arrange it in multiple rows. This will make for easy choosing and eating!
– Consider a spread: A dip, jam, hummus and the like adds another element of interactivity to the charcuterie board itself, making sure it doesn't get lost on the appetizer platter. Depending on how messy your spread of choice is, include mini disposable knives/spoons on the side for serving.
– Add something unexpected: Typically, adding something pickled to a board adds a modern take, but why not take things a step further by including a grain-free nut mix instead? Our NNG Original features a special, almost magical blend of maple-baked nuts and seeds, and is a standout on any charcuterie board or holiday platter. Free of soy, grains and peanuts, while being kosher and vegan, it's crunchy, nutty and delicious. Plus, it's available in snack and bulk sizes, so, if you're hosting a lot of virtual gatherings this year, perhaps you can ship some to your fellow participants so they don't miss out. To keep things from sliding everywhere, we suggest serving it in a ramekin that's placed on your board.
Step 2: Check Gifts Off Your List
Now that party (or festive night in watching holiday movies!) snacks are sorted, it's time to move onto gifts. We took the time to go through our selection of granola gifts and chose some of our favorites.
Gift idea #1: Classic Granola Box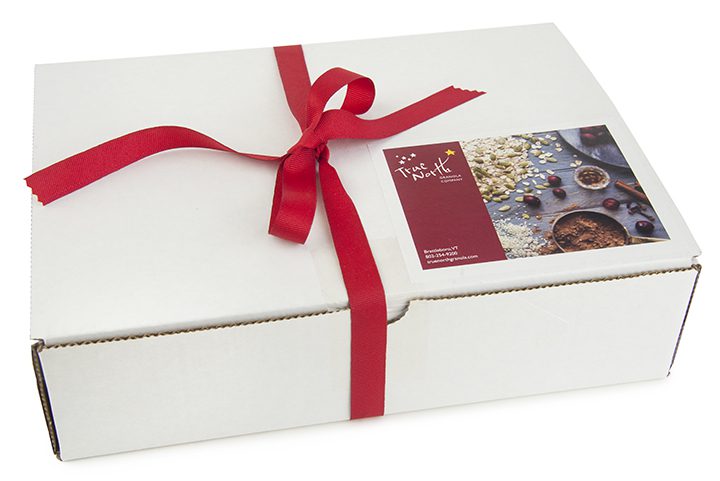 Our Classic Granola Box is the premiere TNG gift. Featuring three 12 oz. bags of Go Nuts, Granola Blues and Maple Vanilla GF Granola, it comes tied up in an elegant red bow so you don't even need to wrap it. Although only one of these products is free from gluten, this gift offers plenty of variety. Score!
Gift idea #2: Traveling Box – 24 Snack Packs
Is someone you're gifting an item to seemingly always on the go? If so, our Traveling Box might be a good match for them. It features 24 of our popular Snack Packs, ideal for taking wherever they may end up or enjoying at home.
Gift idea #3: Family Pack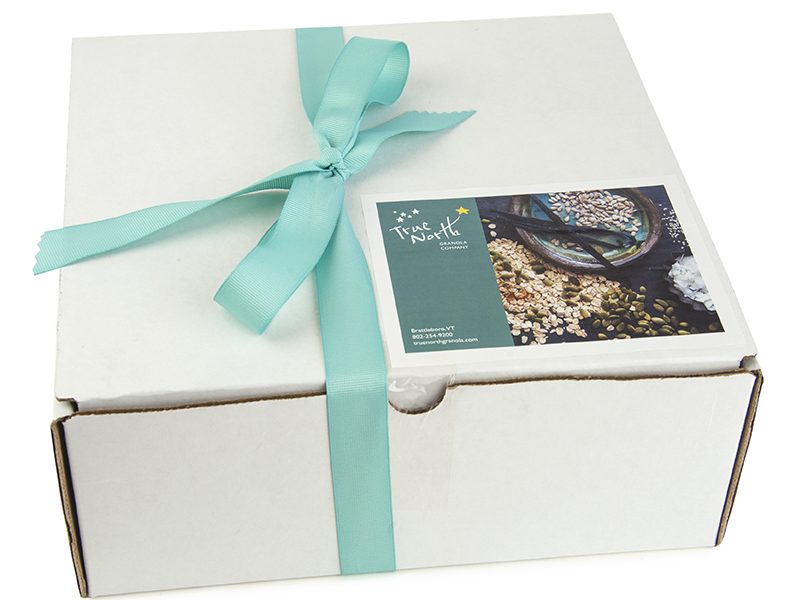 Looking to feed a big group of TNG lovers? Consider our Family Pack, which features a beautiful turquoise bow. Four Snack Packs and four 12 oz. bags are included. As the gift giver, you can choose to give them either original or gluten free granolas, so it's an ideal way to give them some variety or introduce them to the wonders of Vermont-made granola.
Gift idea #4: Nutty No Grainer Sampler Gift Bag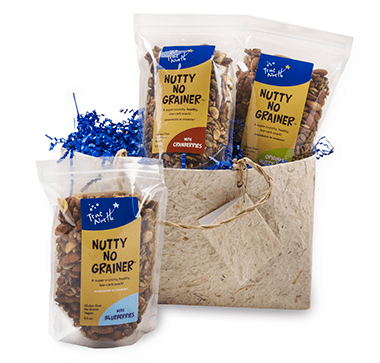 This one's for all the NNG lovers out there. Gift 3 bags of this grain-free, keto friendly blend, which come packaged in a lovely bag using paper from the Mulberry Tree, and prepare for many smiles and claims of 'best gift ever!' Sure, you could gift NNG sans-bag, but we think this one too pretty to pass up. Shop the Nutty No Grainer Sampler Gift Bag to make your list complete.
Note: Still looking for the perfect gift? We offer more gift items on our website, but there are too many to include here, so check them out!
Due to shipping delays, we recommend you purchase early to get your gifts as soon as possible.
Step 3: Enjoy the Festivities (and our Latest Promo!)
Now that the hard decisions have been made, we want you to enjoy everything that this season brings, plus give you a gift this year: our December Promo. Be ready to gift a taste of Vermont with 10% off all gifts with the promo code HOLIDAY. Enter it at the checkout and save through 12/31.
Thank you for your support in 2021, and here's to 2022!