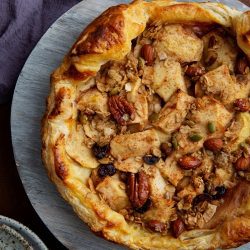 A Nutty Apple Pie
Inspired by the Pie Shortage of 2021 and Tasty's Caramel Rose Apple Pie recipe, this Nutty Apple Pie is delicious, simple and beautiful, perfect for any occasion! Photo credit: Clare Barboza
Ingredients
1

Homemade or prepared pie crust of your choice

4

apples (Granny Smith is recommended)

1

juiced lemon (or bottled lemon juice)

1/2

cup

white sugar

1/2

cup

brown sugar

1/4

teaspoon

cinnamon

1/4

teaspoon

nutmeg

Your Nutty No Grainer of choice
Instructions
Preheat the oven to 375 degrees F.

Peel the apples. Place in a large bowl. Add cold water to them. Put lemon juice into the water to maintain the apples' color. For each apple, cut around and remove the core so you are left with the "cheeks." Slice the "cheeks" so they are thin.

In another bowl, mix together the sugars, the cinnamon and the nutmeg (or the apple pie spice). Add the apples, coat them in the mixture and let it sit for 30 minutes.

Line a 9-inch pan with the pie crust. Prick the edges with a fork. Chill about 20-30 minutes, until firm.

Remove the apples from the sugar mixture. Squeeze them if needed to remove any unnecessary extra liquid.

Starting from the outside, place the apples on the crust by overlapping each to form a rose. Roll an apple slice tightly to put in the center.

Cover the pan with foil. Bake for 30 minutes. Remove the foil and bake the pie for 10 more minutes, or until it is golden brown.

Take it out of the oven and let it cool for about 10 minutes.

To serve this apple pie, sprinkle a generous handful of Nutty No Grainer on the top.

Enjoy! This is great for a Friendsgiving, a holiday celebration or whenever else you could use a gorgeous dessert.