Yes, it is possible to buy gluten-free oats and gluten-free granola.
We hear these questions all the time, and the quick answer is: YES. Pure oats are naturally gluten-free. However, oats are often farmed, transported and stored together with grains that do contain gluten (such as wheat, barley and rye), which causes cross-contamination.
There are some farms that produce only oats without other grains, and at the same time there are some farms that have advanced oat milling capacities that allows them to clean and sort the oats from other grains.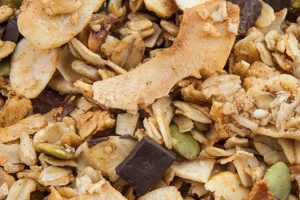 True North Granola buys gluten-free oats from farms that produce certified gluten-free rolled oats, and then we regularly test our products with a food testing laboratory based in Burlington, Vermont to ensure that our gluten-free products meet the Food and Drug Administration (FDA) standards for gluten-free (20 parts per million). Our products are consistently within the FDA standards, often measuring less than 5 parts per million.
We also ensure that no gluten-free products are baked on days with products containing gluten are baked.
True North Granola currently have 9 gluten-free granola options:
Our gluten-free granola varieties taste just as good as our regular granola varieties and are frequently enjoyed by customers who do not follow a gluten-free diet. We truly believe that there is no difference in taste between gluten-free oats and non gluten-free oats.
True North Granola's gluten-free varieties have the words "Gluten-free" clearly marked on the packaging and are available in retail stores, on our website, and at the many farmers markets we participate in throughout Vermont and Massachusetts.
If you still have questions about if Oats are gluten free, or if Granola is gluten free, please give us a call at 802-272-0798 or email us at: info@truenorthgranola.com