By Kate Springer
As many of you know, we recently made some changes to our product lineup to focus more on our best-selling varieties. While this was a very difficult decision that wasn't made lightly, it was necessary for our continued success as a company. The flavors affected by the change include Nuts & Flax, Cherry Vanilla, Apple Cinnamon, Pumpkin, Apricot, Coconut Original and Nutty No Grainer with Blueberries.
We're aware that many of you loved these products, so we've come up with some suggestions of alternative granolas. Consider these options, and maybe you'll find a new go-to granola!
If you loved Nutty No Grainer Blueberry, check out Nutty No Grainer Original or Nutty No Grainer Cranberry!
All of our Nutty No Grainers are made from the same base of nuts, seeds, coconut oil and spices, with the omission or addition of fruit. If you'll miss Nutty No Grainer Blueberry, add your fruit of choice, such as blueberries, to another Nutty No Grainer, such as Nutty No Grainer Original or Nutty No Grainer Cranberry. Or, perhaps, you'll discover a new Nutty No Grainer to eat sans added fruit. Since the bases taste the same, you can still find ways to enjoy the flavors you've come to love.
Instead of Apricot, give Ginger a shot!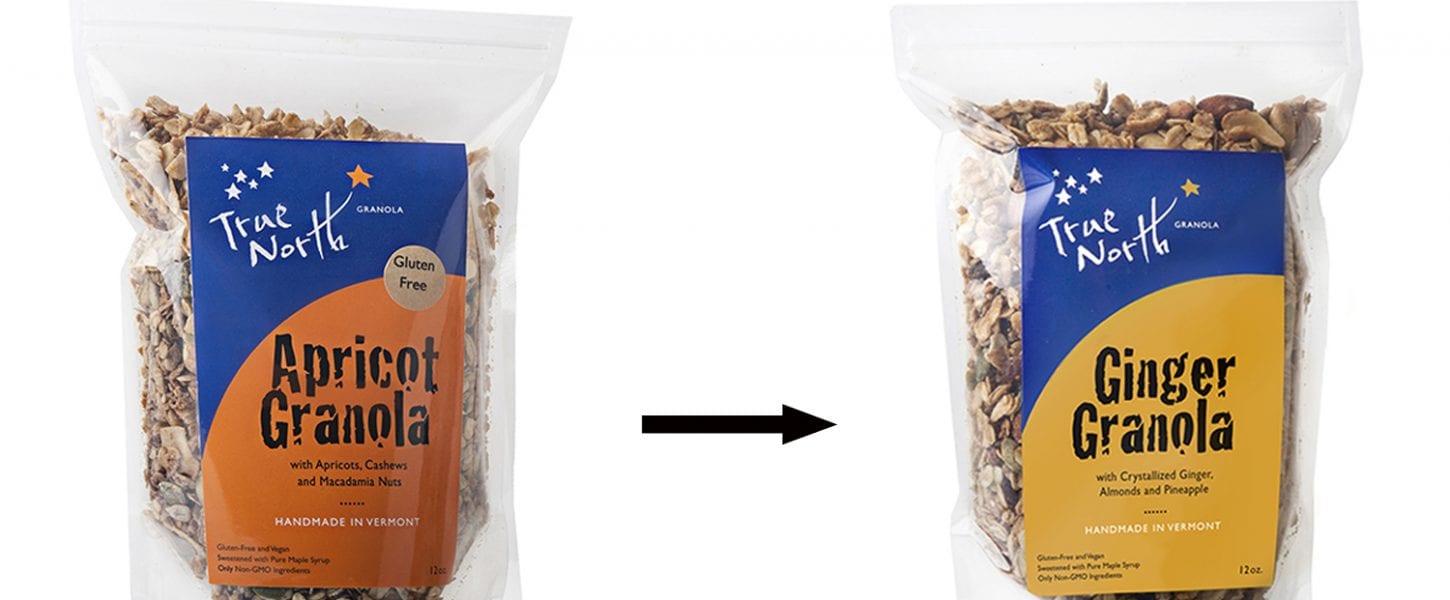 Our Ginger Granola is also gluten-free and has very little added sugar. Crystallized ginger provides some nice texture to contrast the oats and crunch, similar to the sensation of the dried fruit in Apricot. It does, however, have a bit more kick than Apricot. Alternatively, if you don't need a gluten-free variety, Granola Blues might be your next best option. It's packed full of dried blueberries for a punch of flavor.
If you loved Nuts & Flax, try First Date!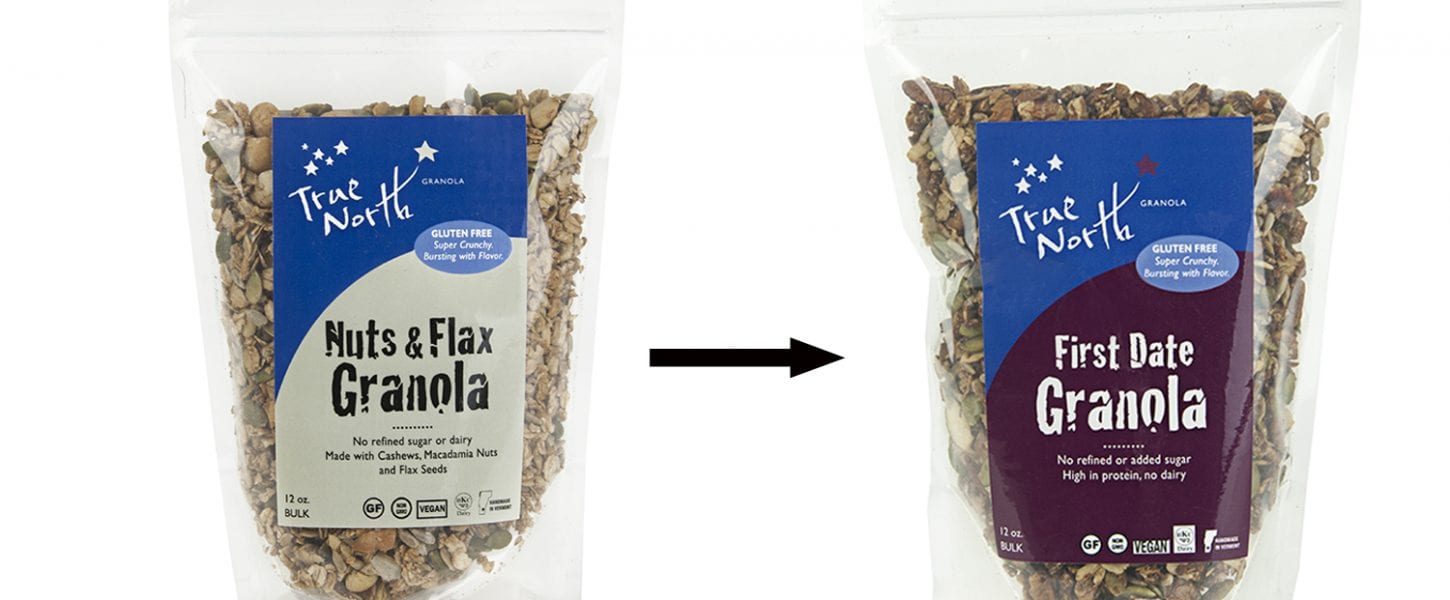 Was Nuts & Flax your go-to? Consider checking out First Date, one of our new varieties, which has been extremely popular since its inception. Like Nuts & Flax, there are no added fruit chunks to the mix; however, we add date powder, an all-natural sugar, which has a slight sweet taste. That is the only addition of sweetness to the recipe. Also, since First Date has no added sugar, there's even less sugar than in Nuts & Flax, making it another healthy choice.
Do you miss Cherry Vanilla, Pumpkin or Apple Cinnamon? Don't worry, they'll be back!
Cherry Vanilla will remain in our product offerings as a seasonal product, so it'll be back next April and May. If you've been a regular purchaser of this variety, but can't seem to find a good substitute, email us (at info@truenorthgranola.com), and we'll see how we can help. Or, stock up next year when it's available again.
Along with Cherry Vanilla, Pumpkin and Apple Cinnamon will become seasonal varieties. They'll pop up again this year in September and October. Also, we want to note that both of these granolas freeze well, so if they're some of your favorites, you could purchase in bulk and perhaps store them for the year. Each one has a shelf life of one year in the freezer.
Are you craving Coconut Original? Try the gluten-free variety!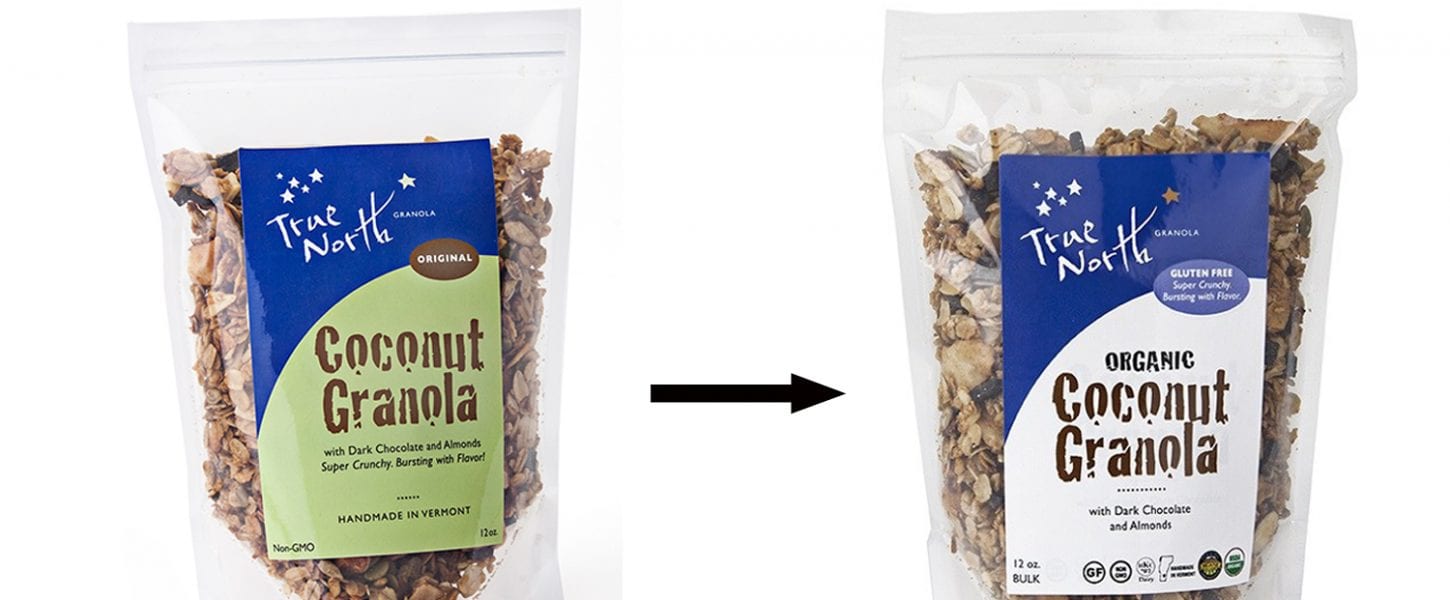 You're in luck if Coconut Original was your favorite, because we still offer Coconut Gluten-Free. With the exception of the oats, the recipe is exactly the same as the one for Coconut Original. Some believe that oats don't contain gluten. In order to create a safe granola for those with celiac disease or who have severe reactions to gluten, we purchase certified oats that have been grown in fields free of wheat or other gluten-based grains. The GF version is identical in taste and quality to the original version, but is safe for those with gluten sensitivities, too. When eating Coconut Gluten-Free, you won't notice a difference from Coconut Original.
So, although we've changed the availability of some flavors, we still want you to find ones that you like. With the samples that we send out in each order, we hope you'll make new discoveries and find new granolas to enjoy. Best wishes to everyone for happy True North Granola eating!