By Kate Springer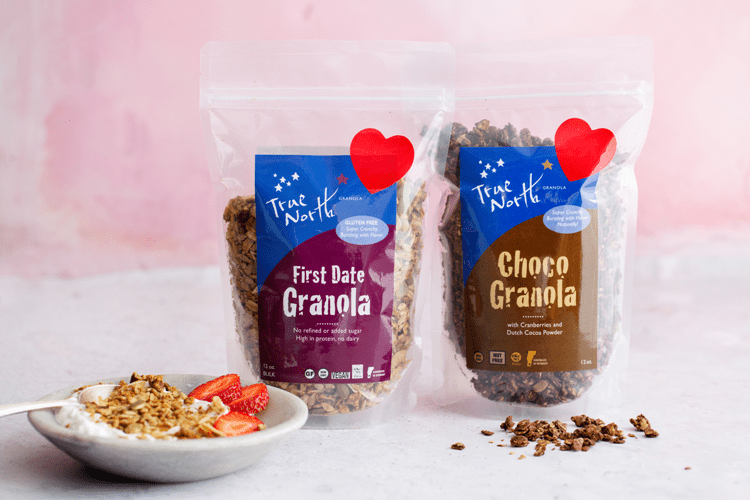 It's no secret that we love all of our granolas, but we have a sweet spot for the Valentine's varieties: Choco (short for Chocolate) Granola and First Date Granola. These granolas are so good that we're sure you'll agree – love at first bite! The key ingredients of cocoa powder and dates in these respective granolas are great because they add flavor and nutrition to our mixes.
Choco and First Date Granolas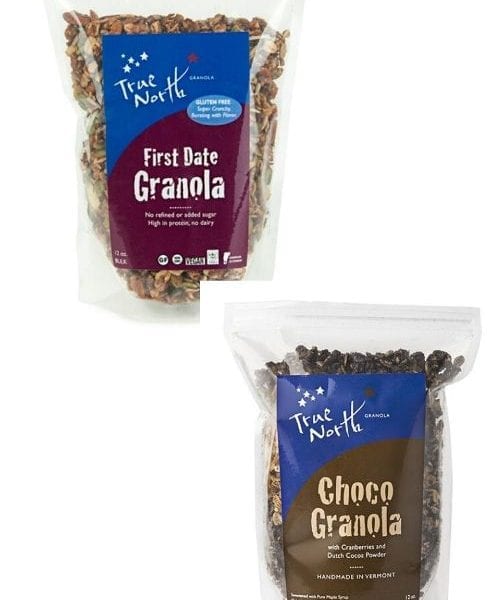 First, for those of you who need a refresher, here's a lowdown on the two flavors. Choco isn't too sweet, and includes Belgian Dutch cocoa powder, sunflower, pumpkin and sesame seeds, cinnamon and apple juice-infused dried cranberries. This organic granola cereal is rich in protein and whole grains, and is GMO-free. If you're searching for a vegan, gluten-free granola, look no further than First Date! As of this month, it's USDA certified organic as well! With no added refined sugar, this is high in protein and taste, sweetened only with organic dried date powder. Date powder is a natural sweetener and can take the place of other white and refined sweeteners. Nuts, seeds and coconut add a crunchy element.
Nutritional Benefits of Dates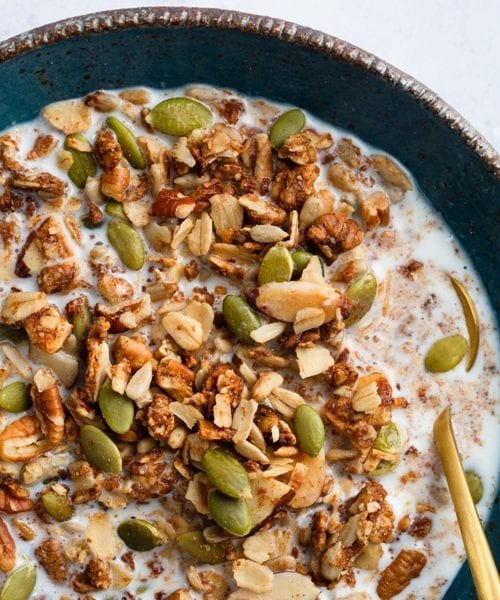 Dates are good for your health. Here's why:
Dates are a source of antioxidants, including flavonoids, which can reduce inflammation. All dates, fresh or dried, contain different types of antioxidants. Date powder is no exception.
Dates can be good for blood sugar balance. Diabetes researchers have shown that dates have a low glycemic impact.
Dates can help reduce blood pressure, because of their low glycemic index, antioxidants and fiber.
Dates contain a brain booster due to their antioxidants.
Dates help maintain bone mass.
Health Benefits of Cocoa Powder
Like date powder, cocoa powder has health benefits, including:
Cocoa is rich in flavanols, which significantly lowers blood pressure. They can also support brain function, and may help brain degeneration that comes with age.
Cocoa may reduce cholesterol and improve blood flow. Eating a serving of chocolate every day may reduce your risk of heart disease and stroke.
Cocoa has the potential to reduce stress levels and symptoms of depression by improving wellbeing and a sense of calmness.
Cocoa, when consumed in moderation, may aid in weight loss. Research surrounding this is being done.
February First Date Granola and Choco Granola Sale
Here's a Valentine's Day (more like Valentine's Month) treat for you: both Choco Granola and First Date Granola are on sale through 2/29! Take 15% off both 12 oz. and granola bulk bag sizes (if you want to stock up and $ave!) with the code 'february2020.' Alternatively, if you want to enjoy TNG Granola every month, consider our subscription program. Happy Valentine's Day!