By Kate Springer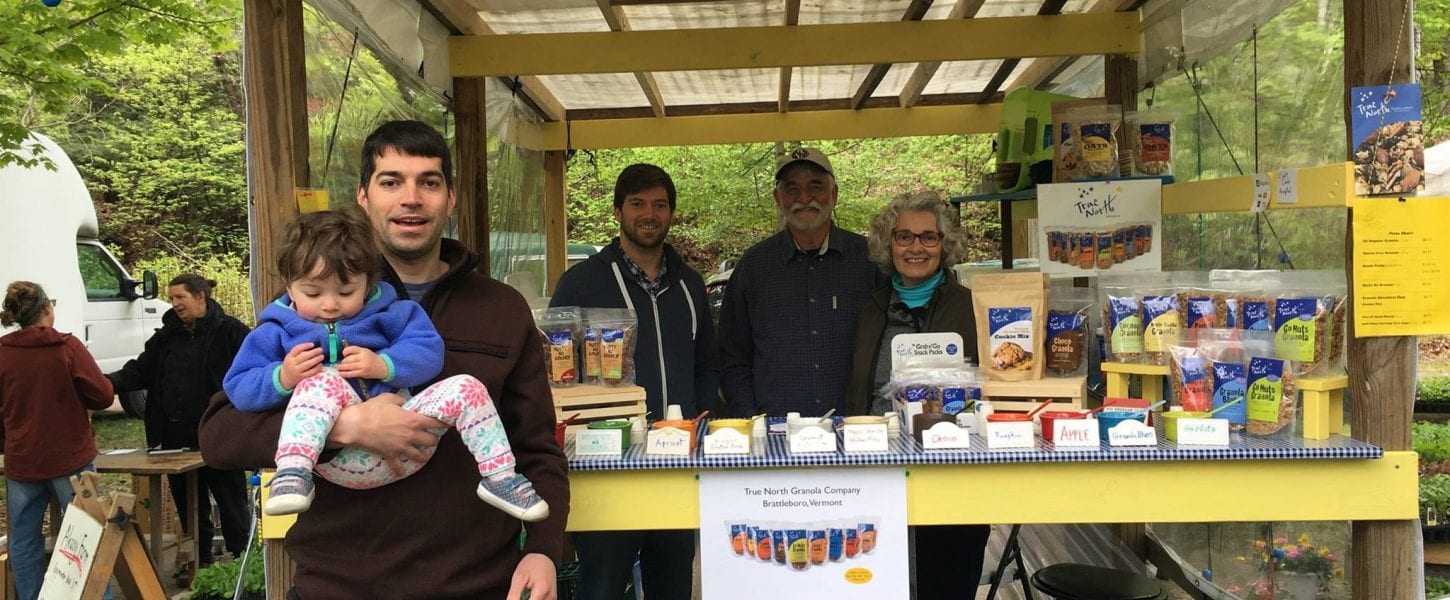 Customers often ask us where and when our business really started to take off. The short answer: after Ingrid and Franklin Chrisco started True North Granola in their home kitchen, they began selling it at the Brattleboro Area Farmers' Market in 2006.
As Southern Vermont's premier farmers' market, the Brattleboro Area Farmers' Market (BAFM) features over 50 vendors, which sell prepared foods, specialty products, foods from around the world and crafts. During peak weeks, about 3,000 attendees, made up of both Brattleboro residents and tourists, visit the Farmers' Market.

BAFM differs from other farmers' markets in that it's vendor-owned. Members come together as an organization, along with a Board of Directors, to put on this community event 26 weeks a year. Both Ingrid and Franklin have held leadership roles in this organization, as well as served on the Farmers' Market Board.
BAFM sponsors a Saturday Market, and mid-week Tuesday Market downtown, and a Pop-Up Market on Route 9 each week. The BAFM has been happening for over 40 years, and all of the vendors live and produce their wares local to the Brattleboro area.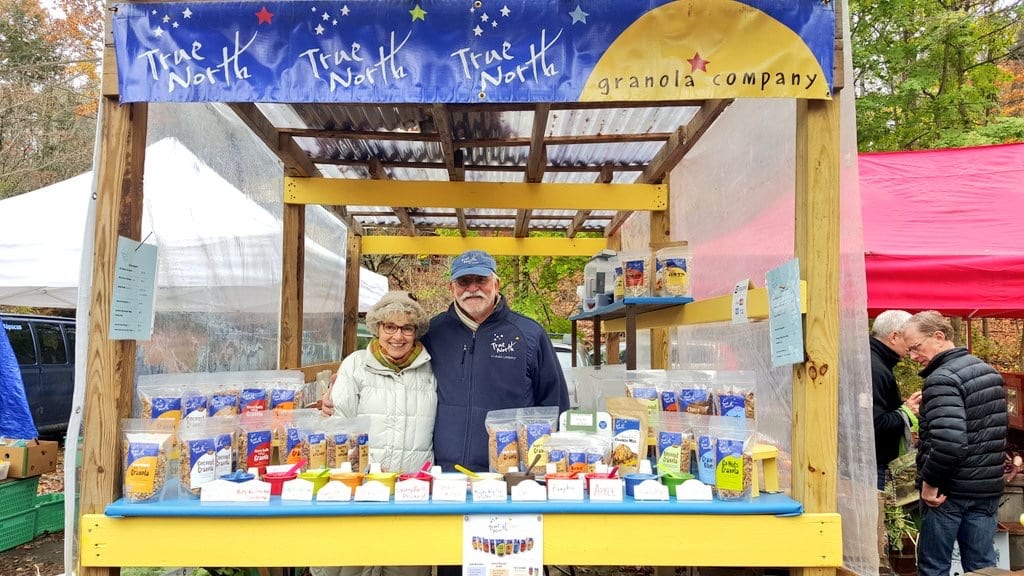 Ingrid has plenty to say regarding the Farmers' Market.
"This [2019] is our 13th year, and it's been an amazing experience for us–meeting so many new people, making so many new friends among our vendor colleagues, learning how important this Market is to our community and helping one another in any way we can," she says. "We love it."
Go Nuts Granola was the first flavor that was sold. It became a favorite at the event, and customers would stop by the booth to share that True North Granola was the best granola that they'd ever had. Since then, it's been a staple item there. Due to their success at the BAFM, the Chriscos decided to expand the company. Since 2006, they've been able to supply granola to many different businesses and organizations, including schools, universities, farm stands, food co-ops, hotels and bed-and -breakfast inns. Now, fans of our granola are located across the country and the world via online sales, and the product assortment has expanded to include everything from Nutty No Grainer to Cookie Mix.
We owe many thanks to our first customers at the BAFM, and the initial reception we got, for our expansion. We're proud to be vending there for the 2019 season. Farmers' Market Opening Day was May 4. The Market runs every Sunday, from 9-2, until Oct. 26. Whether you're a local or a tourist, we invite you to stop by the Farmers' Market to get your weekly produce and grab a quick lunch, or come with your family and stay for the day. Come and find us vending all season long!
True North Granola at the Farmers' Market over the Years
Some things have changed over the past 13 years, but others, like continuing to produce delicious, healthy, Vermont-made granola, have not. Check out these photos of our presence at the Farmers' Market over the years.
Years associated with the photos (from left to right):
Top row: Opening Day 2019 and October 2018; Second row: July 2018 and May 2017; Third row: June 2016 and sometime during 2013; Fourth row: Summer 2013 and 2006, True North Granola's first season at the BAFM