Our "Lovebird Flavors": Choco & First Date
By Kate Springer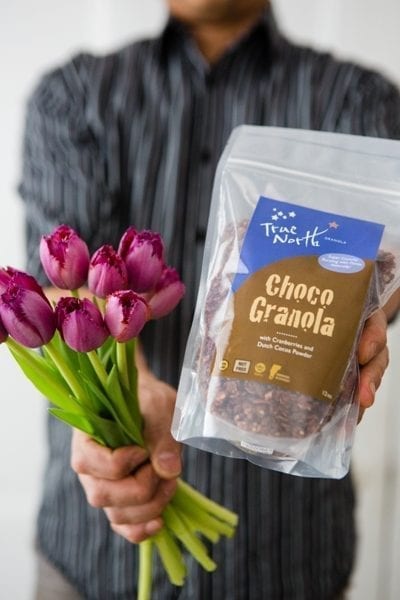 Our "lovebird flavors," Choco Granola, and First Date Granola, are good examples of our efforts to provide artisanal handmade granola that caters to a variety of diets. True North Granola offers both specialty-need and classic granolas to meet as many dietary needs as possible. For more information about these two varieties, and the characteristics of our classic versus specialty granolas, read on.
What is First Date Granola? What about Choco Granola?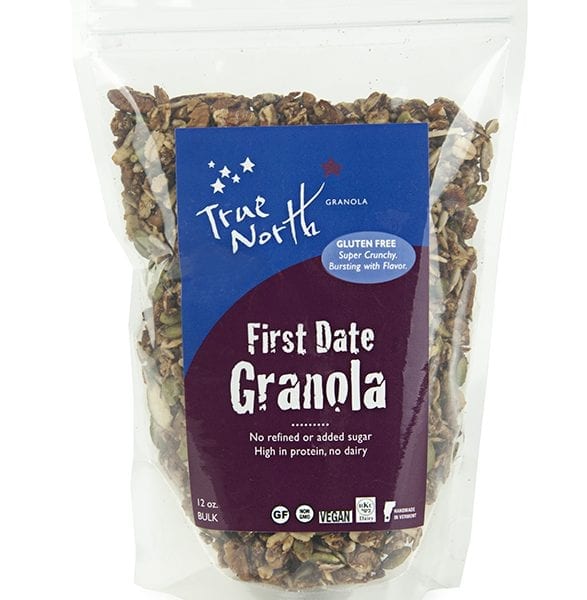 First Date Granola, one of our newest flavors, is one of our 10 gluten-free granolas. It is vegan (which makes it dairy-free), an d has 5 grams of protein per serving, as well as no refined or added sugars. The inclusion of date powder, dried dates which have been ground up, adds just the most minimal amount of sweetening. To add some crunch, slivered almonds and pecans round out First Date's unique flavor profile.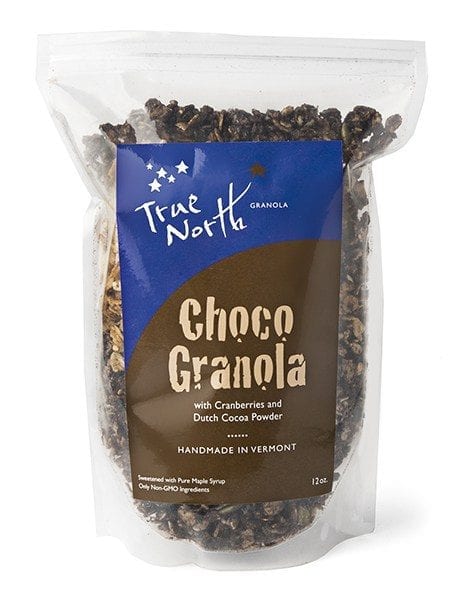 For those who wonder, Choco Granola is one of our 7 classic flavors. It is not too sweet, and features Belgian Dutch cocoa powder, cinnamon and dried cranberries. This homemade granola includes dairy, but is nut-free, and is sweetened with just a hint of maple syrup and brown sugar. While our small-batch classic varieties are generally neither vegan nor gluten-free, they still provide plenty of delicious flavor to satisfy one's cravings for granola.
These granolas are "lovebird flavors" because they are made in Vermont with love, and are perfect to have around Valentine's Day, or any time of the year. Also, First Date Granola and Choco Granola are free of GMOs, peanuts, soy, cholesterol and trans fat.
Why are Specialty-Need Granolas Significant?
Everyone is unique, and the same can be said for diets. Some people may choose to eat vegan, or have a dairy intolerance, while others might have celiac disease or try to not eat foods with added sugar. Whatever the case may be, we try to create granolas that work for as many dietary preferences as possible. We make granolas that are gluten-free, grain-free, organic, vegan, low sugar and nut-free. Specialty-need granolas are significant because they allow people who might not be able to eat our classic granolas, or who want something different, to savor our products. We have taken great care to make handmade granolas that are not only healthy and tasty, but that can be enjoyed by all. The updated filtering options on our website (located in the green box on the left side of our Products page) make finding the products that fit your dietary needs easy.
Of equal importance to us is making sure that we offer some regular options as well. For customers who want a traditional granola, our classic flavors fit the bill.
Do These Granolas Sound Like Something you Would Love?
If so, you are in luck, because both flavors are on sale this month! Take 15% off all available sizes of First Date and Choco Granolas (through 2/28) with the code "February19."