This is the perfect recipe for a beginners trying out a gluten-free diet. These cookies are delicious and you can't even tell they were gluten-free or made with a cookie mix! They're made with Callebout chocolate chips, maple vanilla gluten-free granola, and dried cranberries for some extra sweetness! You can substitute the gluten-free cookie mix with traditional cookie mix if you're not on a gluten-free diet.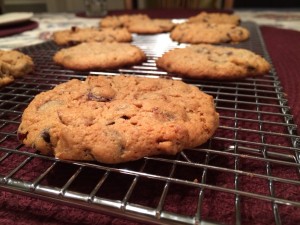 Ingredients Needed:
1 1/2 cups Gluten-Free Baking Mix (we used Pamela's Gluten-free Baking & Pancake mix which we picked up at the local Co-op)
2 cups gluten-free granola (we used our own gluten-free Maple Vanilla Granola)
6 TBSP butter
1/4 cup light brown sugar
1/4 cup white sugar
1 egg
1 tsp vanilla extract
1 1/2 cup semi-sweet chocolate chips
1/2 cup dried cranberries (optional)
1/2 cup chopped walnuts (optional)
Directions:
Preheat oven to 350 degrees
Cream butter and sugars together
Mix in egg and vanilla, then dry mix and gluten-free granola.
Mix in chocolate chips, dried cranberries, and chopped walnuts
Place scoops (about 1 tbsp) on parchment paper or a cookie sheet
Bake for approximately 12-15 minutes!
Yields approximately 20 cookies.
You can replace the gluten-free cookie mix with regular cookie mix if you are not on a gluten-free diet! But really, you can't tell a difference in the taste or texture!
Let us know what you think? Post a picture or modifications to this recipe on our Facebook page!