No Added Sugar, No Problem!
By Kate Springer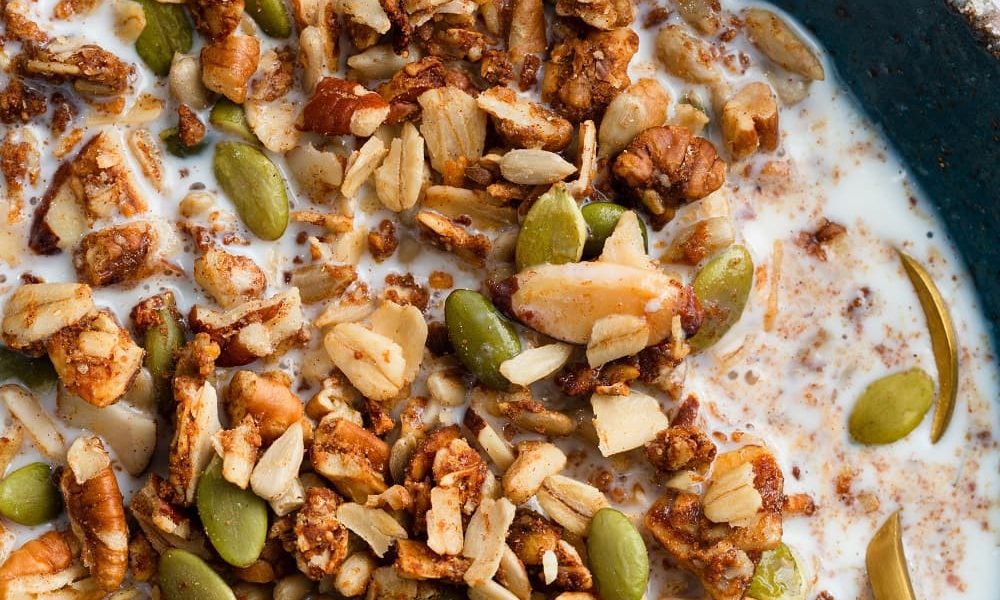 We love First Date Granola, and proudly declare that our fans should love it upon first bite. While we've gone over why dates are good for your health, we have yet to dive into why this granola is a fan favorite…until now. This month, as we're thinking about things we and our customers value, it feels like the right time to put the spotlight on First Date.
Reasons Why First Date Granola Is a Top Seller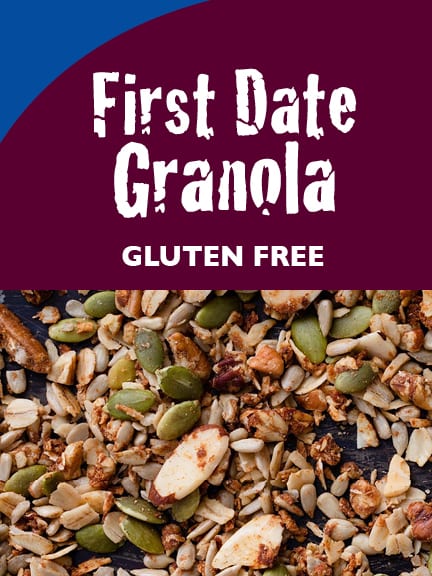 1. No Added Sugar
First Date has all of the taste, but no added sugar. It sounds too good to be true, but it is!
2. A Secret Ingredient
A dash of date powder adds just the right amount of subtle sweetness to our blend. This ingredient comes courtesy of dried dates, which have been ground up.
3. Packed Full of Nuts
Did you know that First Date has more nuts than oats? The deep, robust flavor they give is delicious.
4. Gluten-Free Granola
Ideal for those who eat a gluten-free diet (or those who just want to try something new), this product meets dietary needs with a tasty alternative.
5. High in Protein
Get your protein fix with a serving, or, if you want more, mix some into yogurt or top with milk. Makes a great breakfast or snack! At 5g per serving, this is more protein-rich than the average granola.
6. Unique
It's easy to find standard granolas with tons of added sugar and artificial ingredients, but what about the other way around? Not very easy at all! We've used date powder, a uniquely versatile ingredient, to make a product that's unique and pure in a crowded market.
We hope these reasons encourage you to give First Date a try, recommend it to others or enjoy it over and over again.
An Important Note: September 2021
In an effort to be fully transparent with you, our loyal customers, we wanted to let everyone know that the USDA organic designation has been eliminated for both Coconut and First Date. It saddens us to make this change, but it was the logical thing to do after evaluating how expensive it is to maintain at this time. Due to supply chain and climate issues, COVID-19 and a myriad of other factors, organic crops are in short supply and come at a very high price. We'll continue to use organic products as we can, hopefully soon. That said, First Date and Coconut are just as delicious as ever!
First Date is still gluten-free and non-GMO, just as it has been, with no preservatives, chemicals or additives to any ingredient. Older product labels for both products will be replaced soon.
Reminder: Make Almond Butter Adventure Cookies
Last year, we had the pleasure of collaborating with Lee of The Rogue Brussel Sprout. She developed a recipe for us that features First Date, nut butter, dates and maple syrup. Delicious! These are perfect for taking on any adventure, or just to dunk in milk, coffee or tea.
It's no wonder why Lee choose First Date for this recipe. She's one of many loyal fans:
"I'm not exaggerating when I say that I'm completely in love with this granola. Every single day, I walk down to our local food Co-Op and get a little container for lunch. Every day, rain or shine, hot or cold; it's a ritual."
— Lee of The Rogue Brussel Sprout
How's that for an endorsement?
September 2021 Promo: First Date and Pumpkin, a Seasonal Hit
From now-September 18, purchase a 3 lb. bag of Pumpkin or a bulk size bag of First Date and get the flavor as a Snack Pack for a free extra treat! No promo code needed.
Through October, our Pumpkin Granola is making its return to the lineup. Packed with pumpkin pie spices, raisins, seeds and nuts this toasty combo is just what you need as the air gets crisper. This item will only be available for a limited time, so take advantage.
We're highlighting two fan favorites to say thank you to our fans. We couldn't do it without you! Happy (almost) fall.