By Kate Springer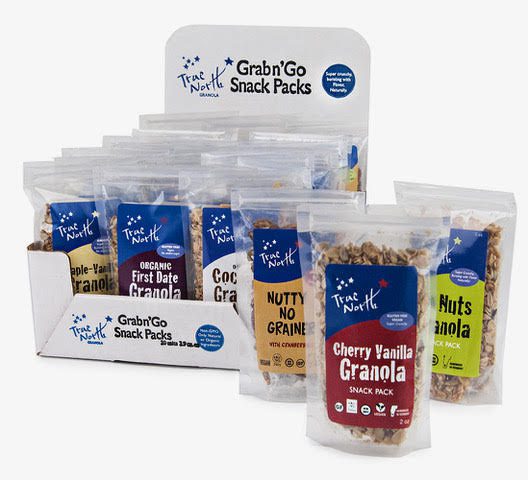 It may be hard to believe, but the unofficial end of summer is coming up. Whether that means a return to school for the kids or a return to the office (or the end of Summer Fridays) for yourself, change is on the horizon. But, you know the saying: "the more things change, the more things stay the same." We get it—it's been an unpredictable 17 months, with more unknowns to come. So, if you and your family are craving something familiar as the world opens back up, turn to True North Granola, specifically our Snack Packs. Follow along to learn why these take-along portions of our Vermont-made granolas are just the right thing to keep you fueled as you finally emerge from your house.
I Missed the Memo. Tell me about the Snack Packs.
These 2 oz. bundles of granola or Nutty No Grainer get lots of use year-round, and it's no surprise why. They're an ideal thing to bring traveling, to work, to school, when doing errands or whenever you go on adventures. Plus, they come bagged, so all you need to do to enjoy them is tear the tab and eat. Pretty great! The Snack Packs are also easy to stash in a backpack or bag for easy access when necessary.
We're currently offering 24 snack packs for $66 in a Snack Pack Bundle, which equates to only $2.75 per pack. As we're always trying to offer products that align with your needs, you can choose whether you'd like them to be all regular granolas, all gluten-free granolas or all Nutty No Grainers, our grain-free granola option. Enjoy deliciousness in every serving, and have plenty to savor whenever the snack craving hits. Find you have so many that you don't know what to do with them all? Share with friends, coworkers or family members visiting (safely!) from afar. After all, they're a true taste of Vermont!
Interested in wholesale options? Please call or email us: (802) 254-9200/info@truenorthgranola.com.
Why Our Snack Packs are Great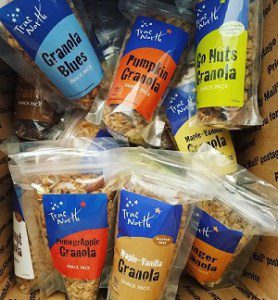 While we like to be humble, we can't help but spread the word about how our Snack Packs are the ideal companion any time you leave home…or just want to good snack. Here's why we stand behind that claim.
They're Versatile
Few snacks are good plain, on salads, as a yogurt topping or however you'd like, but these are an exception. Not only are they a good work pick-me-up, but they're also a delight to pull out of lunch bags, suitcases and everything in between.
Bundles are Customizable
Following a gluten-free diet? Love grain-free options? Just want traditional granolas? No matter how you eat, chances are we have options. Choose the bundle that's best for you and your lifestyle.
Try New Nibbles
Do you have a flavor you'd like to try, or possess a strong desire to taste something new? With a mix of Snack Packs, you can. Maybe you'll find a new favorite flavor!
Never be without a Snack
Know the feeling of being hungry but snack-less? We've all been there. Pack an extra Snack Pack for later and you'll be covered when the unexpected hunger pangs strike.
Keeping the above points in mind, we hope you'll consider our Snack Pack Bundles this season, or whenever you need a burst of energy. Best of luck making the transition!
August 2021 Promo: Get Set for Wherever the Day Takes You with Snack Packs
To ease you into dipping your toes back into the world, we're offering a promo for Snack Pack Bundles this month. From now until August 20, get free Snack Packs. Yes, you read that right, whenever you buy one Snack Pack Bundle, we'll throw in an extra 4 free Snack Packs at no additional cost. No code needed! Now you'll have enough to be set for all of your healthy snack needs and have enough left over if you want to share one or two with a friend.