By Kate Springer
With the arrival of spring means warmer weather, sunnier skies, and plenty of flowers starting to bloom. It's also an ideal time to enjoy a refreshing snack, such as our Cherry Vanilla Granola. Read on to learn about this healthy, refreshing granola, and why it is ideal for National Make Lunch Count Day.
All about Cherry Vanilla Granola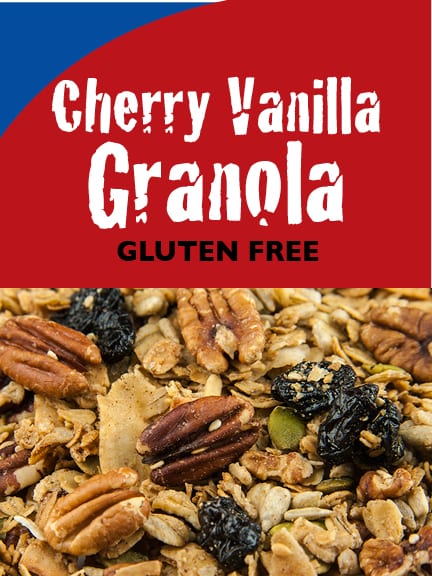 So, what's the scoop on our granola where cherries take center stage? For starters, it's packed with dried cherries, pecans, and coconut chips. And, it's gluten-free and vegan, so even those granola fans out there who avoid gluten and animal products can taste the wonders of this flavor combination. There's good reason why this has been a favorite since it was introduced in 2015. Certified gluten-free oats meet dried Montmorency cherries, pecans, apple juice, and maple syrup. It's like a cherry pie or turnover but tastier and better for you.
Currently, our Cherry Vanilla Granola is available in single 12 oz. bags for $11.49 each or 3 lb. bulk bags for $34.99. If this variety is one of your favorites, may we suggest signing up for a subscription? It's one-click ordering made easy. Choose your preferences and expect granola goodness to end up on your doorstep on whatever schedule you want.
Health Benefits of Cherries
We couldn't make it through putting this blog together without acknowledging how "good for you" cherries are.
Alongside being rich in nutrients, plus anti-oxidant and anti-inflammatory properties, both sweet and tart cherries are full of fiber and vitamins and minerals, such as potassium, magnesium, calcium, and beta carotene. As if that's not enough, cherries also have high levels of vitamins A, C, and K.
Integrating a reasonable amount of cherries into a healthy diet, according to research, may also aid with the following:
Cancer prevention
Reduced post-workout pain
Nutrition
Heart health
All pretty great, which is why we're elated to use cherries as a key ingredient in our Cherry Vanilla Granola and Just Fruit!.
National Make Lunch Count Day: What is it?
April 13 is National Make Lunch Count Day, which encourages people to actually enjoy and make the most of their lunch breaks. According to the New York Times, at least 60 percent of workers typically eat lunch at their desks or 'fail to lunch' altogether, which leads to fatigue and burnout. Taking just 20 to 30 minutes to move around, make and eat a lunch with care, and power off the screen can do wonders to your mood and productivity. Even though not all of us are working in an office these days, we believe it's still important for everyone to take a true lunch break, emphasis on break. Unplug and unwind, you deserve it! Eat in a different room than your workspace, make a lunch that brings a smile to your face, and savor it.
A Recipe Perfect for a Holiday (or any day!): Chewy Cherry Vanilla Granola Squares or Clusters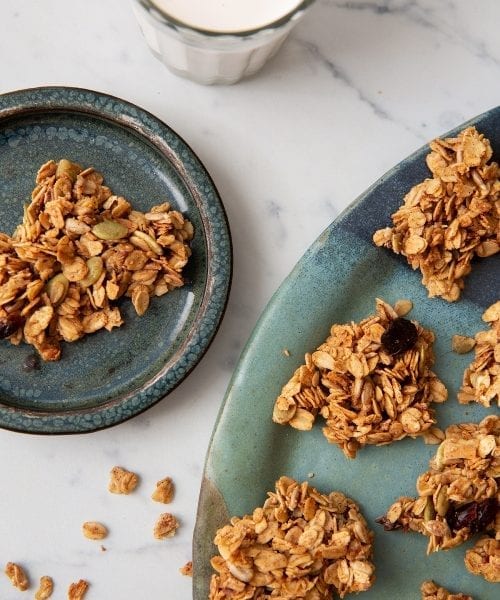 For a good addition to any lunch, these Chewy Cherry Vanilla Granola Squares can help you make your lunches count. Enjoy one while taking the time to reset midday and feel refreshed. If the idea of a picnic piques your interest (or, let's be honest, a patio or backyard version), make and pack these delicious Vanilla Squares to end your meal on a high note.
CHEWY CHERRY VANILLA GRANOLA SQUARES OR CLUSTERS
Ingredients
1/4 cup unsalted butter
½ cup light brown sugar
1 tablespoon maple syrup or honey (we love Hidden Springs Maple)
¾ t. salt
1 tsp. vanilla extract
2.5 cups of Cherry Vanilla Granola (or the True North Granola of your choice)
½ cup dried fruit (True North Granola's Just Fruit! dried Montmorency cherries), optional
Preparation
1. In a saucepan, melt the butter; stir in the sugar, syrup or honey, salt, and vanilla.
Bring to a boil, stirring occasionally.
2. Remove from the heat and add to the granola and Just Fruit!. Spread the mixture evenly in a 7×11-inch baking pan.
3. Bake in a preheated 3500 oven for 25 minutes.
4. While the mixture is still warm, cut into squares and let cool in the pan on a rack. The squares will harden as they cool.
5. Enjoy with a cold glass of milk/mylk or a cup of tea.
*Recipe courtesy of Granola Madness by Dieter and Wallstin, adapted by True North Granola
Happy spring, everyone! Go get your cherrific cherry fix.
April 2021 Promo: Cherry Vanilla Granola
We're crazy for cherries this month, so it's the focus of our April promo. From April 8-15, 2021, spend $34.47 or more on our cherry products (Cherry Vanilla Granola and Just Fruit! Dried Cherries ) and get 3 products to try from our Sample Collection. That way, you can get a small taste of your favorites or discover something new! Use the code "cherry" to save. Stocking up on this flavor is sure to be the cherry on top of your spring, so get shopping!