Maple Vanilla Organic Gluten Free Granola
$9.75 – $95.00
No Nuts, Certified Gluten-Free Oats, Pure Vermont Maple Syrup, Pure Vanilla Extract
Our Maple-Vanilla Gluten-Free Granola has no nuts and is made with certified gluten-free rolled oats, pure vanilla extract and Vermont maple syrup supplied by Hidden Springs Maple in Putney, VT. This tasty granola is full of crunch and flavor, but not too much sugar. ALL INGREDIENTS ARE NON-GMO.
Description
Organic, Nut Free, Gluten Free, Non GMO, Kosher, Peanut Free, Soy Free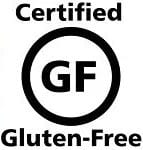 Ingredients
Certified Gluten-Free rolled oats, natural sunflower seeds, unsweetened coconut chips, raw pumpkin (pepita) seeds, natural sesame seeds, sweet whey powder, pure Vermont maple syrup, non GMO expeller-pressed canola or sunflower oil, cinnamon, sea salt, cloves,  pure vanilla extract. NO NUTS.
Allergen Statement: Produced in a facility where nuts (almonds, cashews, pecans, pistachio, macadamia), dairy, wheat, legumes and coconut are used. Package may contain naturally occurring items such as stems, pits or shell fragments