Dear Friends of True North Granola,
Hello and happy May to all!  We have been very busy gearing up for our Spring and Summer Seasons and we have lots of news to share with you.
NEWS
New Dietary Info Added
We just added dietary information on our website and are very proud we can keep the sugar and carbs low, and use only non-GMO ingredients.
Learn about the dietary features of each variety here: https://truenorthgranola.com/true-north-granola-dietary-information/

A Recent Customer Satisfaction Survey shows reasons for choosing True North Granola products over other regional or national brands:
– Great range of unique flavors
– The use of all-natural or organic ingredients
– Always non-GMO ingredients
– Attention to lifestyle or special dietary needs
* Did you know that we use pure Vermont Maple Syrup in our granola?

We are a Finalist in the 2015 Windham Regional Business Planning Competition
The grand prize is $10k in our division – we'll keep you posted.
Learn more at: https://windhambizplan2015.istart.org

Hats Off!
The New True North Granola Hats are in and ready to shield you from the summer sun.
You can order on our website – scroll all the way down: https://truenorthgranola.com/variety-gift-bags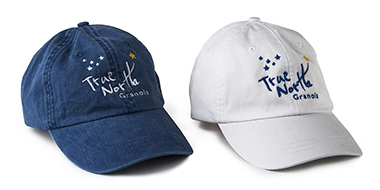 Come visit us this season at the following markets :
Brattleboro, VT – Saturdays May 2 – Oct 31 (9am-2pm)
http://www.brattleborofarmersmarket.com
Westborough MA – Thursdays June 11 – Sept 24 (12pm-6pm)
http://eatfresh01581.com
SoWa – Boston, South End – Sundays (10am-4pm)
http://sowasundays.com
– May 17, 31
– June14, 28
– July 5,19
– Aug 2, 9
– Sept 6, 20, 27
Thank you for your support and to our staff!
As busy as we are, True North Granola products are still handmade and freshly baked in small batches. Our ovens are turned on from 7:00am until 5:00pm each day, and sometimes on the weekends.
Our valuable and enormously dedicated staff—Abby, Agathe, Erin, Maddie, Trish, Franklin and Ingrid—work diligently to ensure consistent quality every day.
Ingrid, Franklin and The True North Team