Cherry Vanilla Gluten Free and Vegan Granola
$11.75 – $110.00
Currently out of stock. This product will be available again from May 1 – 31, 2023.
Dried Cherries, Pecans and Coconut Chips–Gluten-Free + Vegan
Our Cherry Vanilla Gluten-Free Granola was introduced in 2015 and quickly became very popular. It includes certified gluten-free oats and features dried Montmorency cherries that are infused with apple juice and sunflower oil. It also has pecans and pure Vermont maple syrup supplied by Hidden Springs Maple in Putney, Vermont.
ALL INGREDIENTS ARE NON-GMO and Gluten-Free
Description
Gluten Free, Non-GMO, Vegan, Kosher, Peanut Free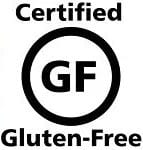 Rolled Oats
Ingredients
Certified gluten-free rolled oats, VT Pure Maple Syrup, sunflower seeds,  pumpkin seeds,  coconut chips, Demerara sugar,  golden flaxseeds, Montmorency tart cherries (infused with apple juice & sunflower oil)  pure vanilla extract, Gluten-Free, ground cinnamon, sea Salt, ground cloves, VT Pure Maple Syrup,  organic sunflower oil
Contains: Nuts (pecans), coconut
Allergen Statement: Produced in a facility where nuts (almonds, cashews, pecans, pistachio, macadamia), coconut, milk (whey protein), sesame, wheat and pea protein are used.  Package may contain naturally occurring items such as stems, pits or shell fragments