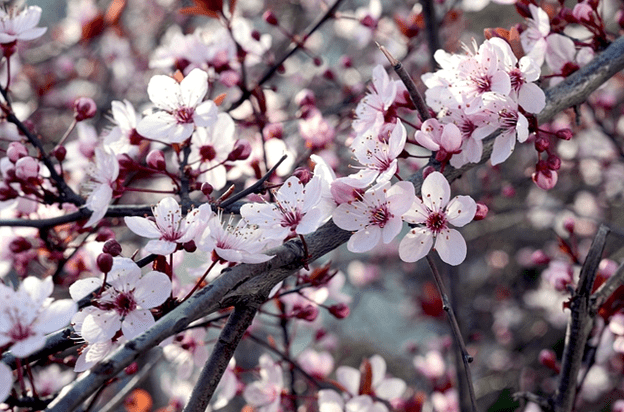 April, 2021
Spring has finally arrived in New England, and much sooner so in other parts of our country! We welcome the anticipated warmth and beauty of our spring colors!
Covid 19 is still upon us–how can we ever forget! The increasing number of those among us receiving a protective vaccine allows us to build hope for protection among us while we remain aware and vigilant of the lingering dangers of this virus. We are grateful for spring and grateful we are finally able to move through the darkest days of Covid 19.
Our shop remains open and is functioning quite well, still with most of the same Covid19 protocols in place we began more than one year ago (masks, distancing, cleanliness, food safety, individual worker schedules, handwashing more than you can imagine, wearing gloves)! Not all members of our staff have been vaccinated yet, and we move each day toward full vaccination for every one of our cherished staff members. We will never forget what we've learned from living in and through this pandemic–it has sharpened our resilience, encouraged our support for one another, and shown us that while change is necessary, it, too, can bring new ways of learning, working, communicating and doing.
As of this month, April, we now have brought back all flavors of True North Granola that we intend to continue to produce. Cherry Vanilla Granola is our newest re-addition to our family of products and we are excited to bring back one of Ingrid's favorites. And for those who love Montmorency Tart Cherries, our very own Just Fruit! Cherries satisfies this need, too, and enhances any of granola varieties, especially our no-fruit-added Maple Vanilla Granola.
In December, we shared that we have had to make some changes to our shipping costs, Our previous shipping rates caused us to experience significant economic losses in 2020, and increased shipping rates from UPS, USPS and FedEx have resulted in enormous changes for small business, too. Shipping, both rates and expediency, remain an illusive target for us and we are quite mindful of the impact this is having on our loyal customer base. We are sorry we cannot "fix" this situation in any better way. Our shipping revenues do not add income, but merely attempt to cover actual costs.
Our mainstay granolas and customer favorites are here to stay, and now that we have returned Coconut and Cherry Granolas back to the family, we are once again fully represented with our most favorite products–Ginger, Choco, Organic First Date, Go Nuts, Granola Blues, Maple Vanilla Original, Organic Maple Vanilla GF, Nutty No Grainers Original, Cranberry and Mediterranean. Thank you for helping us sort this out, too. Our Cookie Mix and Muesli products remain very attractive to customers.
If you are an existing customer, please know that our "Refer a friend" promo continues to exist. If you make a referral and your friend or family member places an order, you will receive a $10 discount off your next order. Just let us know via email that this has occurred and we'll make this happen for you.
We continue to offer our highly successful Subscription Program which decreases your cost for each order. Set it up one time, and we do the rest. We have increased the savings on the subscription order. If you place a subscription with a frequency delivery of every month, you will now receive 7% discount on this order. Subscriptions that will be sent every-other-month will continue to save you 5% per order. This is the True North Granola version of 'one-click ordering,' and it is working quite well.
Thank you for your continuing orders and thank you for your amazing reviews. All of your reviews are on our website, and we make it a priority to respond to each of you as they come in. They are so much fun for us to read.
Lastly, please check out our newest blog each month. Written by Kate, one of our social media staff members, they offer insights, instruction, and very good reasons as to why True North Granola products are as good as they are.
We will continue to notify you of changes to our business.
With gratitude, and our continuing best wishes for your extended good health and safety in 2021.
Ingrid and Franklin, Owners, True North Granola,